Day 1A of the PCA Main Event is done. Here's the story of the day.
• Alexander Kharkov leads PSPC on Day 1A
• Joey Weissman, Joao Simao, and Brian Altman finish well
• A field of 356 (with 27 re-entries) reduced to 135
• Konnikova, Antonius and other big names bust (re-entry open until start of Day 2)
• Day 1B starts at 12pm ET Saturday
Chip leader: Alexander Kharkov
Kharkov's progress today became clear after the dinner break. In fact it was hard to miss.
By then his stack had swollen to more than 200,000, but it wasn't until the last hand of the night that it peaked.
---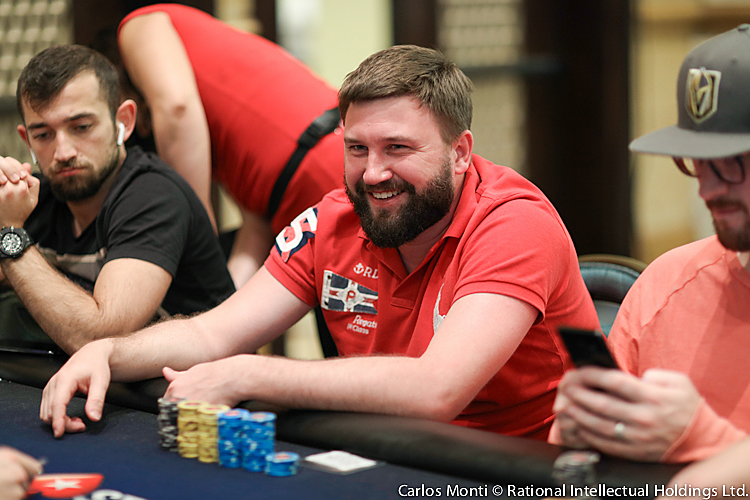 Chip leader: Alexander Kharkov with 350,500
---
He got the better of Luc Greenwood on a board of 3♦6♥9♥T♣. Greenwood made it 25,000 before Kharkov raised to 60,000, causing agony for Greenwood, who folded. Almost as an act of mercy, Kharkov showed him 7♠8♠.
He leads on 350,500.
Selected chip counts at the end of Day 1A
Alexander Kharkov – 350,500
Joey Weissman – 267,000
Joao Simao – 251,200
Brian Altman – 236,100
Markus Khunen – 196,000
Pavel Plesuv – 191,200
Andre Akkari – 143,200
Liv Boeree – 64,800
Full counts from today will be available via the link above when we get them later tonight.
Other notables
The single day high roller on the schedule for tomorrow brought out quite a few of the big names wanting to get their Main Event campaign underway early.
Those returning on Day 2 include Scott Seiver, Shaun Deeb, Richard Seymour, Alex Foxen, Erik Seidel, Adrian Mateos, and Dzmitry Urbanovich.
Today's fallers
Then there were those who long since departed.
John Juanda, Maria Konnikova, Joe Cada, Jake Schwartz, Patrik Antonius, Christian Harder, Ryan D'Angelo, Tim Reilly, and Cliff Josephy were all among those eliminated today, although for those who have busted only once the re-entry option remains open until Day 2.
Coming up on Saturday
As always, we do all of this again tomorrow, starting at 12 noon.
The field is expected to be bigger tomorrow, up on last year's total. We'll get an idea of that some time tomorrow.
Until then you can recap on all the action from the day below.
---
Read below for coverage of Day 1A
• PLAYERS: 135 of 356 (including 27 re-entries)
• MAIN EVENT: CHIP COUNTS | PAYOUTS | SEAT DRAW
• $100K SHR: UPDATES | LIVE STREAM
• ALL PCA INFO | TOURNAMENT SCHEDULE
• DOWNLOAD POKERSTARS | Follow @PokerStarsBlog on Twitter
---
12:25am: Day 1 concludes
It appears Alexander Kharkov ended the night the clear leader after he won another big pot near the finish. Full recap of the day to come. –MH
12:10am: Six more hands
Level 10 – Blinds 600/1,200 (BB ante 1,200)
They've paused the tournament clock and announced all tables will each play six more hands before bagging.
Meanwhile Maria Ho lost the last of her short stack to leave a little early. The big board currently says 144 Day 1A players are left, but the actual total is probably a little less. –MH
12am: Silver sunk
Level 10 – Blinds 600/1,200 (BB ante 1,200)
Shortly after losing that big flip to Joey Weissman (see just below), Max Silver busted to Franco Spitale.
Getting his short stack in with A♠Q♠ versus Spitale's 8♥8♣, the 4♣A♣Q♣ flop gave Silver two pair, and he was still in front after the 3♥ turn. But the K♣ river gave Spitale the flush and Silver is out.
Spitale has about 80,000 now with just over 20 minutes to go in the night. –MH
11:50pm: Weissman wins big flip, challenging for lead
Level 10 – Blinds 600/1,200 (BB ante 1,200)
Alexander Kharkov had appeared to be crusing his way to the end-of-night chip lead, but a big pot between Joey Weissman and Max Silver just now has introduced a challenger to that title.
It was a big preflop flip between Weissman who had Q♥Q♦ and Silver who had A♠K♥, and the queens held. Weissman was all in for 134,100, and so now has around 270,000 while Silver is down to just 2,000. –MH
11:40pm: Quads for Seiver
Level 10 – Blinds 600/1,200 (BB ante 1,200)
Scott Seiver just made a big overbet on the river in a hand versus Marc Perrault, sixth-place finisher in the PokerStars Players Championship, a finish good for $1,012,000.
The board showed 3♦T♠T♣T♥J♣ and Seiver had pushed all 34,900 he had forward, more than twice the pot (and maybe more than that).
Perrault tanked for a long time before finally calling, and Seiver immediately turned his hand over — Q♦T♦ for quads — and collected the big pot.
Seiver is suddenly up around 75,000 now while Perrault is down to 16,000. –MH
11:30pm: Katz doubles
Level 10 – Blinds 600/1,200 (BB ante 1,200)
There was a bet of 2,500 on the button before Ivaylo Sivinov raised to 7,500 in the small blind. Next to act was Cary Katz, who picked up his chips and threw them into the middle, making a kind of choo noise, like a kid firing a laser gun.
Sivinov called immediately, even taking off his headphones for the first time.
Katz: K♠K♣
Sivinov: T♦8♦
The board ran 5♣Q♣J♥J♣4♦
Katz's all in was 18,600, so he doubled up to around 40,000. Sivinov, whose chips were not stacked in any order, has somewhere between 20,000 and 40,000. It's hard to tell. – SB
11:23pm: The chip-less
Level 10 – Blinds 600/1,200 (BB ante 1,200)
Griffin Benger was an early leader today, and I mean early as it was only at the end of the first level. He's among the eliminated now, however, as are Kalidou Sow, Matas Cimbolas, Connor Drinan, Pascal Hartmann, Griffin Benger, Dario Sammartino, Kyle Julius, Martin Jacobson, and Isaac Haxton.
Don't feel too badly for them, though, as each can re-enter tomorrow if he wishes. However Alan Schein, James Calderaro, Guillaume Diaz, Harrison Gimbel, and Tomas Da Silva cannot, as they have all busted a second time. –MH
11:20pm: Hislop's flush beats Satubayev's straight
Level 9 – Blinds 500/1000 (BB ante 800)
Three players saw the flop, which came 3♣T♥Q♣. There had been betting and raising, making it a sizeable pot at this point.
Shyngis Satubayev checked. Carlos Chadha checked. Edward Hislop bet from the button, making it 9,500.
Satubayev was waiting to raise, and made it 25,000 to play. That forced a fold from Chadha but Hislop moved all-in. Satubayev called.
Satubayev: K♦Q♦
Hislop: A♣4♣
The turn and river came J♣ A♠. A straight for Satubayev, but a flush for Hislop, who now has around 100,000. Satubayev drops to 25,000. – SB
11:10pm: Foxen catches Yosifov
Level 9 – Blinds 500/1,000 (BB ante 1,000)
Alex Foxen is currently the No. 1 ranked tournament poker player in the world according to the Global Poker Index. He was also the No. 1 ranked player in a hand just now with Dimitar Yosifov. With just two players in the hand, No. 2 wasn't such a good place to finish for Yosifov, and he's been knocked out.
I missed the action, but the T♦5♦6♦J♥A♣ board meant Foxen had made the nut flush with A♦2♦, much better than Yosifov's Q♦J♣. Foxen has 82,000 now. –MH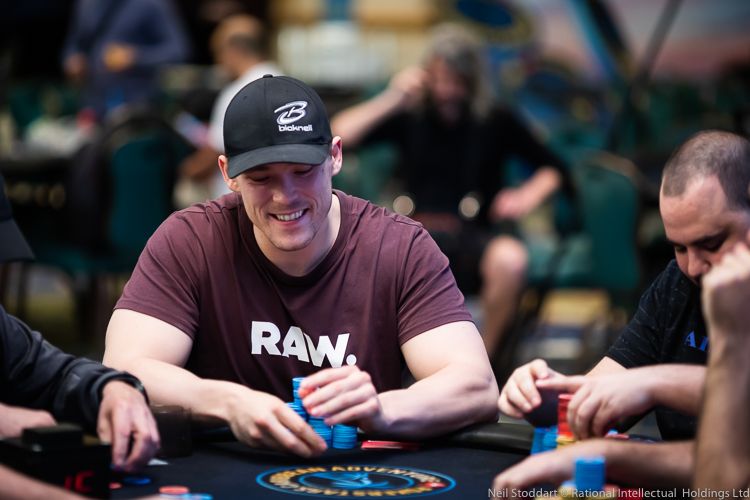 Foxen felts one
11:07pm: Danchev seeking second PCA Main title
Level 9 – Blinds 500/1,000 (BB ante 1,000)
The board looked like a royal procession, reading J♣J♦K♦Q♣Q♥, and Patrick Quinn had fired a bet of 12,000 in an attempt to claim the pot. But Dimitar Danchev wasn't folding.
Danchev, whose greatest poker triumph came right in this room in 2013 when he won this same event for a $1.859 million first prize, indicated he wanted to see what Quinn had behind, then raised to 30,000. Quinn nodded and let his hand go.
Danchev is up to 70,000 now, while Quinn has 47,000. –MH
11:05pm: Julius triples up (but it's not as exciting as it sounds)
Level 9 – Blinds 500/1000 (BB ante 800)
An opening bet from Jimmy Guerrero got a shove from Kyle Julius, albeit for about a big blind. It was technically a raise, and Alex Foxen in the small blind, called. As did Guerrero.
The flop came Q♣5♣9♣
Foxen bet 5,000, which Guerrero passed at. That meant a showdown.
Julius: A♦K♣
Foxen: A♠4♣
The turn 3♥ and river K♥ left things in Julius's favour. He "stacked" up something like 6,000.
"He made more than you did," joked Shaun Deeb at the other end of the table, as Foxen took in the side pot. – SB
11pm: Kharkov king of the counts
Level 9 – Blinds 500/1,000 (BB ante 1,000)
Just below I was noting how Justin Bonomo was attempting to get chips away from leader Alexander Kharkov's stack. Alas for Bonomo, things went the other way just now and Kharkov was the one getting all of Bonomo's chips after cracking the latter's aces.
The Russian is up over 270,000 now. –MH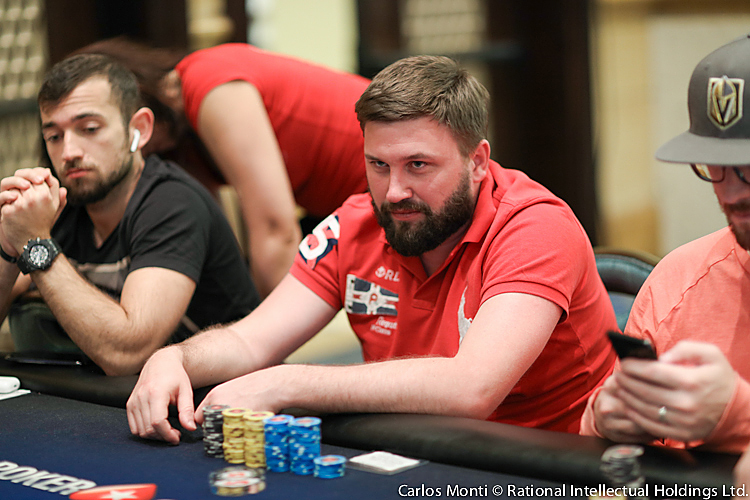 Kharkov collecting
10:55pm: A sampling of counts
Level 9 – Blinds 500/1,000 (BB ante 1,000)
Alexander Kharkov still looks like he has the biggest stack of the just under 200 players in action the moment. He's around the 200,000-chip mark right now, but every time I pass that table it looks like Justin Bonomo is working hard to try to move some of those chips over to his stack.
After doing a round through all the tables, here are some estimated stacks of many of the notables in the field, organized in groups according to where they are hovering at present.
145,000 – Brian Altman
130,000 – Elliot Smith
110,000 – Andre Akkari
100,000 – Mike Leah, Dzmitry Urbanovich, Liv Boeree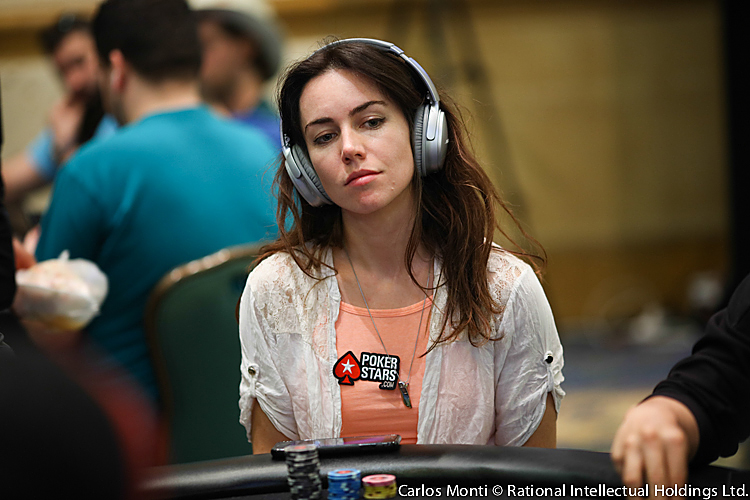 Liv Boeree
90,000 – Nick Palma
80,000 – Shaun Deeb, Christopher Kruk
75,000 – Justin Bonomo
70,000 – Scott Clements, Sam Grafton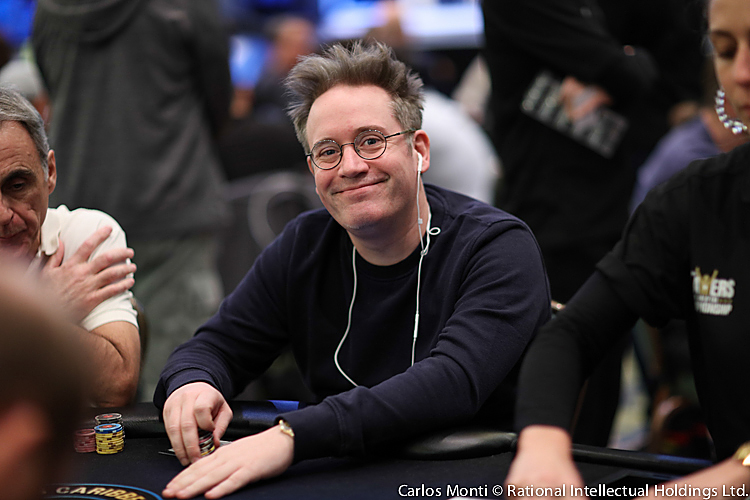 Sam Grafton
50,000 – Luc Greenwood, Sylvain Loosli, Daniel Dvoress
40,000 – Alex Foxen, Byron Kaverman, Martin Jacobson
35,000 – Calvin Anderson, Cary Katz, Adrian Mateos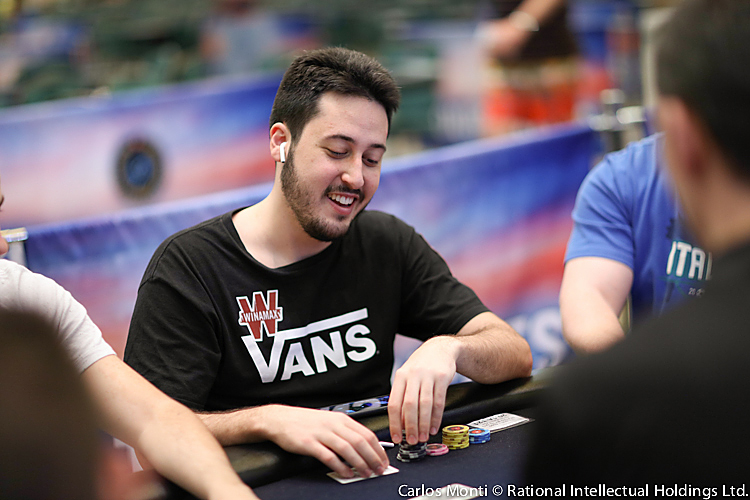 Adrian Mateos
30,000 – Anthony Zinno, Matt Glantz
25,000 – Maria Ho, Dominik Nitsche, Dietrich Fast, Timothy Adams
20,000 – Scott Seiver, Will Failla
15,000 – Bryn Kenney
–MH
10:38pm: Smith felts Kobylinskiy
Level 9 – Blinds 500/1,000 (BB ante 1,000)
Elliot Smith and Artem Kobylinskiy just concluded a bit of preflop back-and-forthing with Kobylinskiy all in with A♠K♦ versus Smith's K♠K♥.
The board went 3♠2♦7♠J♥3♥, and Kobylinskiy is out. Smith is up to 125,000 now. –MH
10:35pm: Ruivo a-go-go
Level 8 – Blinds 400/800 (BB ante 800)
A double up for Manuel Ruivo through Erik Seidel. 8♣8♠ for Ruivo against Seidel's A♣2♥.
The board came Q♥3♥T♠9♠7♣ to leave Seidel with around 100,000 and keep Ruivo in the game with 40,000. – SB
10:25pm: Knockouts a-plenty
Level 9 – Blinds 500/1,000 (BB ante 1,000)
Scott Seiver busted right before the last break, joining a long list of players who have been knocked out here on Day 1A.
Among the others who have lost their stacks are Preban Stokkan, Sam Chartier, Oleksii Khoroshenin, Aaron Been, Paul Newey, Markus Durnegger, Sergio Aido, Seth Davies, Rui Ferreira, Dan Shak, Scott Margereson, Ben Yu, Philippe Dauteuil, Benny Glaser, Romain Lewis, Ramin Hajiyev, Scott Bohlman, Noah Boeken, Ariel Celestino, Brian Rast, Upeshka Desilva, Florian Duta, Mustapha Kanit, Athanasios Polychronopoulos, Nacho Barbero, Andras Nemeth (twice), and David Peters (also twice).
I see Seiver has bought back in to begin Level 9, although most who are busting at this point who do plan to re-enter are more likely to do so tomorrow at the start of Day 1B. –MH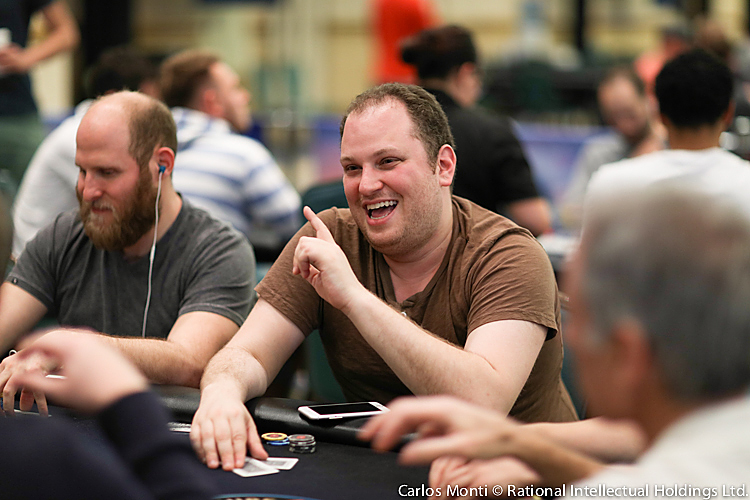 "If at first you don't succeed…" says Seiver.
10:10pm: Last break of the night
With 207 players still in from the 354 total entries so far, the last 20-minute break of the night has arrived. –MH
10:08pm: A king's ransom. Two actually
Level 8 – Blinds 400/800 (BB ante 800)
Alan Schein opened for 1,600 in the cut off, which Kalidou Sow called on the button.
Brian Altman was in the small blind and immediately raised to 8,000. Schein called, Sow folded.
The flop came T♣A♦8♦
Altman checked to Schein who threw out a combination of yellow and pink chips – a bet of 5,100. After confirming the amount, Altman called.
Both checked the 4♦ turn for the J♥ river card. Two more checks. Schein showed K♥K♦ which Altman had beat with A♥5♦. He's now up to around 110,000. – SB
10:06pm: More for Bonomo, though Kharkov big-stacked
Level 8 – Blinds 400/800 (BB ante 800)
There were four players seeing an 8♠7♣A♠ flop, and when Gianluca Speranza in middle position bet just two of his opponents called, Alexander Kharkov on the button and Justin Bonomo in the big blind.
The turn was the 3♥. Bonomo checked, Speranza bet 7,500, and both Kharkov and Bonomo called. The 6♥ river then saw Bonomo check quickly, Speranza take some time before checking, and Kharkov also hesitating a bit before checking as well.
Bonomo tabled T♥9♣ for the nuts, a ten-high straight, and Speranza mucked his hand with a big grin. Kharkov showed his cards — 6♠4♠ — before tossing them away, and Speranza said "top two" to describe to Bonomo what he'd folded.
"Good check," said Bonomo as he collected the pot.
Bonomo has about 80,000 now, while Speranza is down to just under 20,000. Meanwhile Kharkov still has the big stack at the table and one of the big ones in the room with 161,000. –MH
10:05pm: Drinan at the double
Level 8 – Blinds: 400/800 (BB ante 800)
Connor Drinan doubled up through Byron Kaverman, and the pair were left sniggering like schoolboys about something or other after the hand finished.
My guess is that this went raise, from Kaverman in the cutoff, followed by ship, from Drinan on the button, and a call from Kaverman. Drinan had 10,600 in his stack and Kaverman around five times that.
Kaverman's K♦9♥ was second best against Drinan's A♥K♠. That stayed true through the J♥A♣T♠2♦5♦ board.
Drinan has a little more than 22,000 now, while Kaverman still has 40,000. Then the chuckling began. — HS
9:55pm: Seymour the merrier
Level 8 – Blinds 400/800 (BB ante 800)
The button raised to 1,700 before Richard Seymour, waiting on the small blind, raised to 5,600.
Oleksii Khoroshenin was on the big blind, and while it seemed he wanted to raise, the floor deemed his action a call. He wasn't thrilled, but the call stood, and he and Seymour saw a flop.
5♥2♦A♣
Both checked.
5♦ on the turn.
Both checked.
The 4♠ river.
Seymour bet 5,100 and a hand that Khoroshenin had started wanting to three bet, now ended with his folding. – SB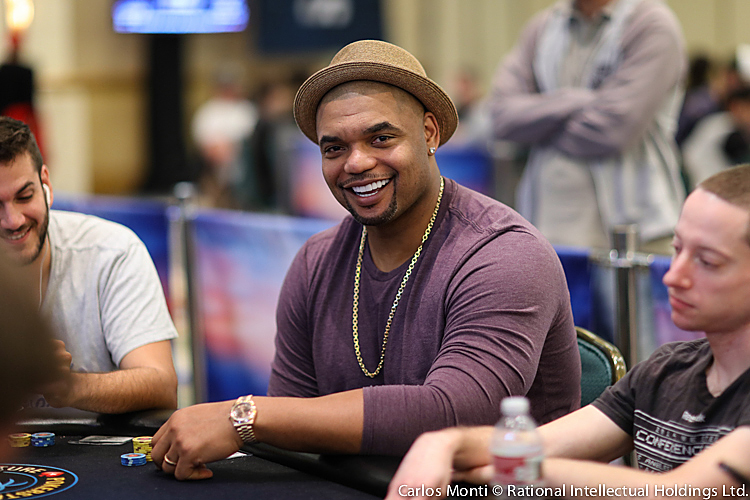 Seymour likes it
9:54pm: Seiver at the doub- at the triple
Level 8 – Blinds: 400/800 (BB ante 800)
Scott Seiver was again staring elimination in the face, but managed to dodge Bryn Kenney's bullet to survive. Seiver committed his last 1,300 from early position and Daniel Fuss called him on the button. But then Kenney, in the big blind, moved all-in to isolate and Fuss folded.
Kenney turned over Q♣2♣ and Sam Grafton quickly deduced that Kenney hadn't even looked before making the play. Kenney didn't deny it, but he was behind Seiver's K♠3♠. A dry board — T♠5♥6♥J♥8♥ — followed and Seiver tripled up.
Seiver is a very active member of by far the loudest table in the room, and the chit-chat is now continuing.
9:48pm: McNulty wins the race
Level 8 – Blinds: 400/800 (BB ante 800)
Thad McNulty got his last 13,600 in the middle as an open shove, and he got a call from Javier Zapatero. This was one of those race things: McNulty's 7♠7♥ was ahead of Zapatero's A♦Q♥.
Zapatero had a clearly covering stack, however, and the all-in player stood up as if he expected to leave. But the dealer put the 2♣8♣7♣ flop out there, and McNulty sat back down.
The 2♦ turn and J♥ river finished things off, meaning McNulty has back around his 30,000 starting stack. Zapatero still has him covered, though, with 85,000. — HS
9:45pm: Enselme doubles through Kenney
Level 8 – Blinds 400/800 (BB ante 800)
Arnaud Enselme raised to 1,800, and Bryn Kenney was next to act and put out a big reraise to 20,000. Enselme called the all in with A♠J♠, and Kenney tabled K♦T♦.
The T♣3♠8♠ flop paired Kenney but gave Enselme a flush draw, and the 5♠ turn completed that draw to lock up the hand for Enselme. Kenney started to get up to go, but a count showed he'd had the bigger stack and thus continues with 4,400 while Enselme now sits with 4,400.
The topic of conversation quickly shifted to Kenney's ability to play a short stack, and he joked he's probably a better bet to protect 4,400 than 25,000. –MH
9:40pm: Trips down memory lane
Level 8 – Blinds 400/800 (BB ante 800)
Alexandre Reard just doubled up through Michael Soyza.
It was Reard's pocket tens against Soyza's pocket sevens, and they each made a set, with a ten and a seven on the flop.
Both now have around 25,000 chips. They just arrived there from different directions. – SB
9:38pm: Kidding around with Scott, Sam, and Luc
Level 8 – Blinds 400/800 (BB ante 800)
Scott Seiver and Sam Grafton were having some fun with Luc Greenwood just now, joking around with him being in the "shadow" of his twin brother, Sam.
Both Greenwoods are highly accomplished pros, of course, with Luc's achievements including a High Roller title right here at the PCA a couple of years back. But that didn't stop Seiver and Grafton.
"Imagine how hard that would be," said Grafton. "You're one of the 50 best players in the world, but your twin brother is better. It's like you're the great swimmer… John Phelps!"
Luc nodded and chuckled. "You're Bobby Jordan," Grafton continued.
The laughter continued as Luc opened with a raise, then Seiver pushed all in for his last 6,800. It folded to Grafton in the blinds who called the push, and Luc folded. Seiver had A♣Q♠ and Grafton A♠Q♦, and the board unsurprisingly produced a split pot.
"Chopping up that Greewood money," grinned Grafton who has about 125,000 right now, while Seiver is still short with about 7,500.
"You know what's funny about that hand," said Seiver. "If Sam had opened, we would have both folded." –MH
9:35pm: A Benger sandwich
Level 8 – Blinds: 400/800 (BB ante 800)
Griffin Benger raced up to around 75,000 today — probably the first player to reach that mark — but he is now sitting with only about 16,000 and bigger stacks are surrounding him.
Benger was the filling in a sandwich between two of them — Yang Wang and Aleksandr Gofman — with Wang moving up to 130,000 by the end of it.
Benger started the hand with a raise to 1,800, and he was called by Gofman in the cutoff and Wang in the big blind. The three of them admired the A♣4♦T♣ flop but Wang checked it. Benger bet 2,600 and Gofman called.
Wang opted not to call, but instead popped it up to 8,500, putting the squeeze on Benger. Benger didn't want to play and made a rueful fold. Gofman too threw his cards away.
Gofman still has 105,000 to play with, but Wang is captain. — HS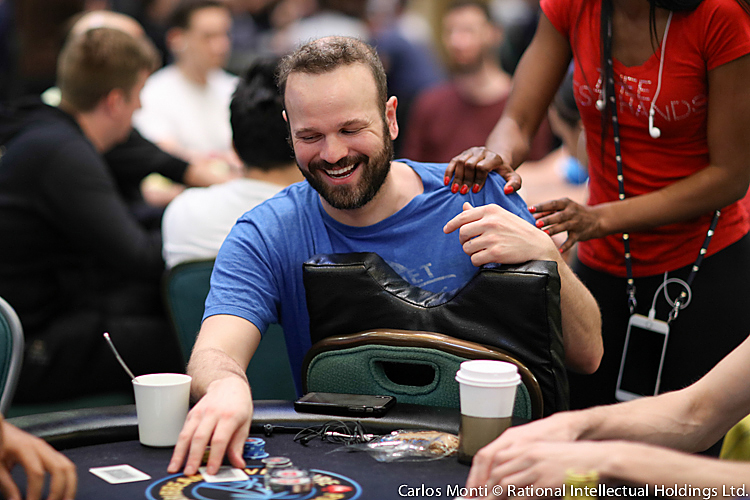 Griffin Benger
9:25:pm: All in. A Day's work.
Level 8 – Blinds 400/800 (BB ante 800)
Christopher Andler opened from the cut off for 1,800. Next to act, and seated on the other side of the dealer, was John Juanda, who leaned forward to count Andler's stack. He then raised with a single blue chip worth 5,000.
Next to act was Carlos Chadha. He was in the small blind, and after looking at stacks said he was all-in.
That for Andler out of the way.
Juanda though was going nowhere, and called, tipping a small pile of blue chips forward by way of indication.
A♠K♠ for Chadha
J♥J♣ for Juanda
Someone said "your hand," to Juanda, but his reaction suggested he would have preferred to wait for a happy outcome before agreeing.
It didn't come.
Instead, the board ran 3♣3♠A♥K♥4♥ to knock out Juanda, and leave Chadha with around 100,000. That's Juanda's second entry, so he won't be returning. – SB
9:25pm: The mystery deepens
Level 8 – Blinds: 400/800 (BB ante 800)
I would love to know what both players had in the following hand, but it's one of those that didn't quite make it to showdown. Ben Heath (cutoff) and Adrian Mateos (big blind) got to a flop for just one raise and a call. The flop was K♥7♥Q♦.
Mateos checked and Heath bet 3,700. Mateos called.
The J♥ fell on the turn and Mateos checked again. Heath bet again, making it 8,400 this time, and Mateos called.
The T♥ completed the board and this was now especially scary. Mateos checked again and then complied when Heath asked to see his stack. Mateos now had about 30,000 behind. After around a minute's thinking time, Heath set Mateos in, putting a big tower of chips forward.
Mateos spent a minute or so in his own mind palace before folding.
"You had one already, on the turn?" Heath asked.
"A flush?" Mateos asked. Heath nodded. Mateos, however, said that he did not, so this one will remain a mystery. — HS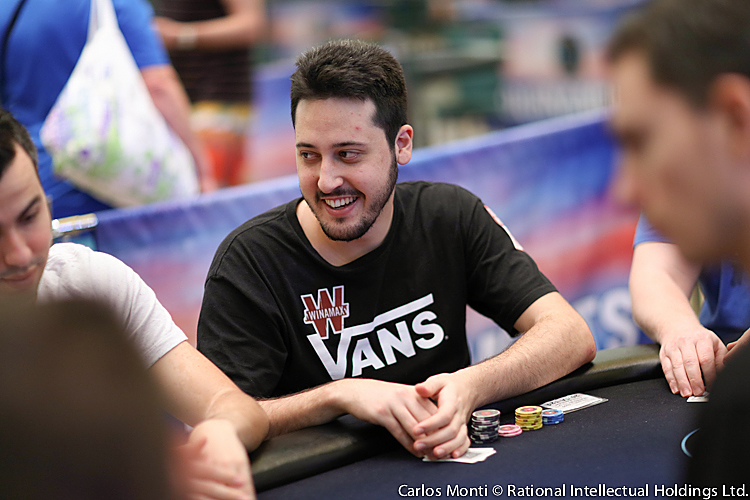 Adrian Mateos
9:22pm: It's always darkest before the dawn
Level 8 – Blinds 400/800 (BB ante 800)
Team PokerStars Pro Andre Akkari raised to 1,900 from the button, and Max Silver called the raise from the small blind. Manig Loeser was next to act in the big blind, and after checking his cards he jammed all in for 27,600 total.
Akkari thought a short while before calling the push, and Silver got out of the way.
Akkari: A♠Q♠
Loeser: T♣T♥
The Q♥9♠6♦ flop paired Akkari, and Loeser's prospects seemed so dim after the 7♦ turn card he had already gotten up from his seat. But the 8♣ river completed the board and a straight for Loeser, brightening his prospects considerably as he gets to stay in the game.
Loeser bumps up to 58,000 now, while both Akkari and Silver are right at around 84,000. –MH
9:13pm: Gavin gathers from Schein
Level 8 – Blinds 400/800 (BB ante 800)
It was an action flop, considering the hands Alexis Gavin and Alan Schein were holding. The first three cards had come T♣9♦Q♦, Schein had 9♥9♠ (for a set), and Gavin J♣8♣ (for a straight).
Thus did all the chips get in the middle, and after the 6♦ turn and 7♦ river, Gavin was the one collecting them back. She's up to 44,000 now, while Schein is at about 70,000. –MH
9:10pm: Fontaine's first bullet misfires
Level 7 – Blinds: 300/600 (BB ante 600)
In one of the last hands in Level 7, Jean-Rene Fontaine began his life as an ex-member of the 2019 PCA Main Event field. He was knocked out by Mazin Khoury.
Fontaine open pushed his 18,900 stack from the hijack with A♣6♥ but ran into Khoury's A♥K♠ on the button. The board was an emphatic K♣J♥2♣A♦7♠ and that sent Fontaine away with his tail between his legs.
No need to weep for this Frenchman, however. He won the massive EPT National event last year in Barcelona, when he outlasted 4,348 players and picked up €547,000. He also won a €500 Turbo here in the Bahamas this week. But his first bullet is a misfire in this one. — HS
9:09pm: The bigger they are the harder they raise
Level 7 – Blinds 300/600 (BB ante 600)
Erik Seidel opened for 1,300, which was then raised to 3,900 by a player at the other end of the table. That same player hadn't had time to feel the vibrations of his own raise settle before Seidel plonked a four-bet of 35,000 onto the table, the sound of which reverberated both physically and mentally. Fold. – SB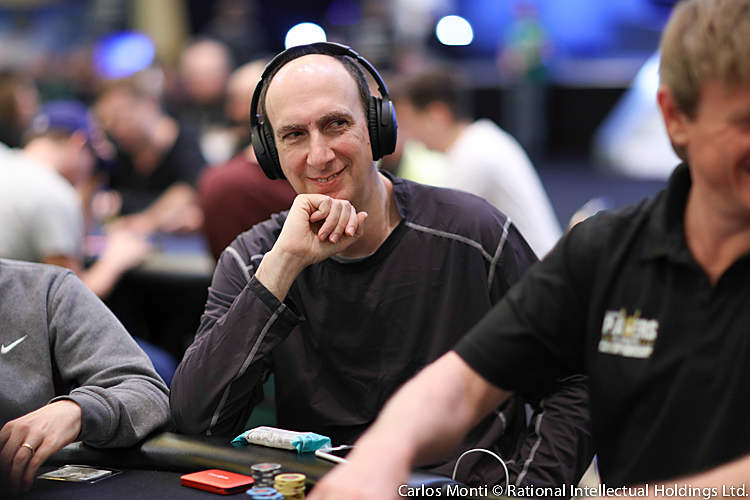 Erik Seidel
9pm: Nothing ventured, nothing gained
Level 7 – Blinds 300/600 (BB ante 600)
Anthony Zinno has around 60,000 now after he shoved on the turn.
The board read 8♥J♥5♠K♠ when he moved all-in for just shy of 30,000, and around 20,000 in the middle.
Ivaylo Sivinov had the decision to make, and took his time making it, eventually folding. – SB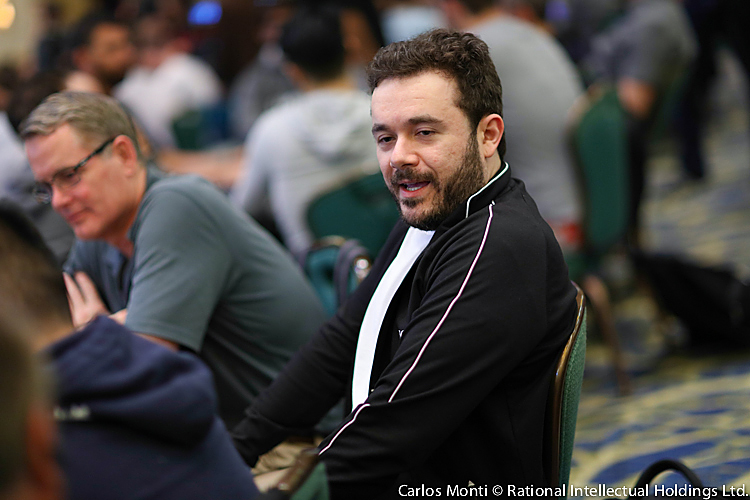 Anthony Zinno
8:58pm: Seiver's Ivey story; or, the 11-hour massage
Level 7 – Blinds 300/600 (BB ante 600)
Scott Seiver is in the field, and just now was sharing a fun story with his table where Sam Grafton is sitting.
Seiver shared an anecdote of the first time he played against Phil Ivey, back when Seiver was 21. Suitably intimidated, Seiver told how Ivey three-bet him mercilessly five hands in a row, prompting Seiver to fold each time.
Grafton interjected how he'd never actually played with Ivey, laughing at how that fact doesn't serve him so well when describing what he does to others back home and others always ask if he has.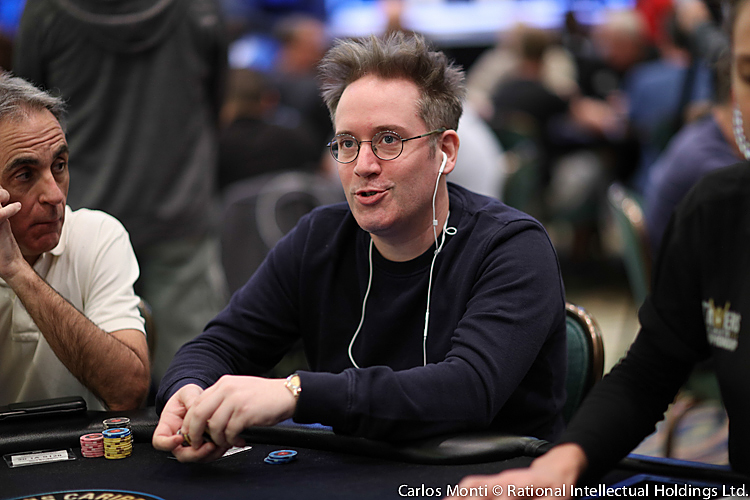 Sam Grafton
Seiver went on to tell how he ordered a massage, something he'd never actually done before. And a funny thing happened — once the massage started, Ivey stopped three-betting him.
"I don't know if I was giving off a tell that the massage was hiding or what," Seiver continued.
We all know Seiver is a talented player with an ability to adapt at the tables. And that is just what he did that day, keeping the massage going for 11 hours (!).
Seiver laughed at how sore he was at the end of the day, but keeping the massage therapist on his back somehow succeeded in keeping Ivey off of it.
"I'll remember that if I ever play Ivey," Grafton grinned. –MH
8:54pm: No laughing matter
Level 7 – Blinds 300/600 (BB ante 600)
It was all laughter at the end of this hand, which got as far as a flop.
Dimitar Yosifov opened form the cut off for 1,200, which Thi Xoa Nguyen raised to 4,000 on the button. Yosifov called.
The flop came Q♠4♠8♣
Yosifov checked. Nguyen bet 3,500 before Yosifov checked raised to 8,200.
Nguyen took her time. She stared at the board for a while and then, after a minute or so, appeared to come to a different conclusion. Different perhaps to the one she'd discovered when made a bet.
So she folded, showing the 5♣ face up.
Yosifov told her to pick one of his cards. But he did it for her, showing the 5♦.
"Oh my God, that's good!" said Nguyen, before she started laughing. Even he grinned. Although he now had 60,000 chips. — SB
8:48pm: Business is open for Bonomo
Level 7 – Blinds 300/600 (BB ante 600)
Justin Bonomo has joined the field, and has immediately started building. Just now he was making an river overbet after his opponent checked, pushing out 13,000 bet into a 8,600 pot with the board showing 6♦9♠Q♣7♣2♠. It earned a call, and his Q♠6♠ for two pair was good.
He's already over 46,000 now. –MH
8:45pm: You can't win them all
Level 7 – Blinds: 300/600 (BB ante 600)
No sooner had Maria Konnikova been cut down to 10,000 than she doubled back up to more than 20,000. And very soon after that, her short, sharp roller-coaster ride came to a crashing halt when she suddenly was left with nothing.
Konnikova raised and Christopher Frank called pre-flop taking the two of them to the 2♦9♣5♣ flop. Konnikova in mid-position bet 3,700 and Frank, in the cutoff, called.
The all happened in a flash after the T♠ turn. Konnikova jammed for 18,500 and Frank called in a flash. Konnikova's K♠K♥ had been outdrawn by Frank's T♥T♣ and the river was a blank.
With that, Konnikova leaves. She can still re-enter if she wants, and I expect we'll see her again tomorrow. Frank, meanwhile, has 135,000 and that's one of the biggest stacks in the room. — HS
8:35pm: Roberts bets Bohlman out of pot
Level 7 – Blinds 300/600 (BB ante 600)
Lauren Roberts lost her first stack today to Kalidou Sow (see below 3:34pm). Just now she was ready to put her second (and last) one at risk versus Scott Bohlman, but in the end was able to win a pot and keep her seat without a showdown.
Roberts bet the flop, turn, and river as the board came 9♠4♦Q♥K♦3♣. Bohlman called the 3,500 on the flop and the 12,000 on the turn. But when Roberts pushed her last 11,500 forward on the end Bohlman had to let hand go.
A couple of minutes later, Roberts has about 50,000 now while Bohlman is down to around 10,000. –MH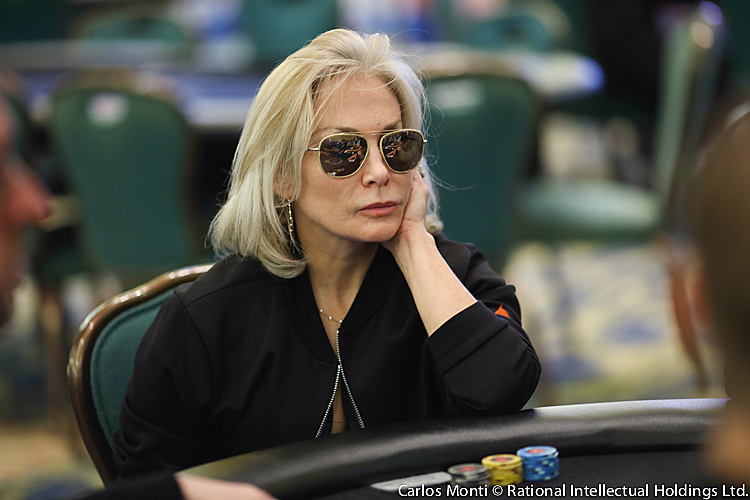 Lauren Roberts
8:29pm: Silence is golden. Or worth about 4,000 chips
Level 7 – Blinds 300/600 (BB ante 600)
On a flop of J♥Q♥2♠ Isaac Haxton had bet out 3,300 form the small blind, which Peter Jetten called form the seat next to him.
That brought a turn card A♠, which after minute or so both players checked.
On the Q♦ river there was the same pause – the hand played out in somber contemplation.
At least until Jetten bet 15,000, at which point Haxton insta-folded. – SB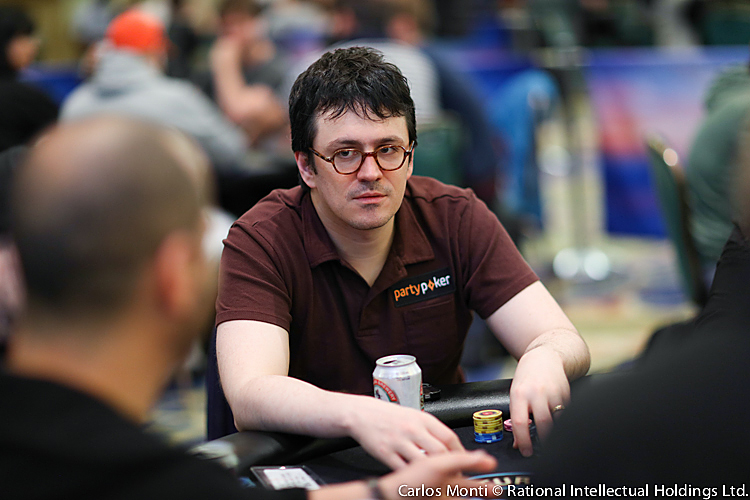 Isaac Haxton
---
8:28pm: Rann's run done
Level 7 – Blinds 300/600 (BB ante 600)
James Rann got his short stack all in just now behind A♦T♥ and needed to improve to outrun the Q♦Q♥ of Patrick Quinn. But the flop came 8♦Q♣4♠ to give Quinn a set, and by the 7♥ turn Rann was already drawing dead. Quinn is stacking 52,000 now.
The headline refers only to Rann's first run, by the way, as re-entering is an option. All who bust this one get one more entry which they can take today or tomorrow. –MH
8:28pm: Konnikova hits to stay alive
Level 7 – Blinds: 300/600 (BB ante 600)
Last year, the PCA was all about Marias. Maria Konnikova won the National Championship and a Platinum Pass about a week before Maria Lampropulos won the PCA Main Event and a Platinum Pass too.
It's not been quite so Maria-tastic this time around, with both our heroines whiffing the PSPC and Konnikova finding it tough going here on Day 1A of the Main Event. She has just doubled up, but only had 4,500 in her stack when she did so.
Harrison Gimbel turned out to be Konnikova's benefactor as his A♥K♥ didn't connect with a board of 2♦7♥J♠8♥3♦ quite so well as Konnikova's J♦Q♦ did. Gimbel handed over the chips and Konnikova breathes again. But with about 10,000, she still has work to do. — HS
8:20pm: Ho on the slide
Level 7 – Blinds: 300/600 (BB ante 600)
Any profit Maria Ho had made from the early levels has just been wiped out in a hand against Artem Kobylinskiy. Ho had every reason to think she was value betting for a lot of the way, but Kobylinskiy had better.
Ho opened the pot from mid-position, making it 1,400 to play. Kobylinskiy was the only caller in the big blind and the two saw the 4♦2♥Q♥ flop. Kobylinskiy checked and Ho bet 1,300. Kobylinskiy called, setting a pattern that repeated through all streets.
The T♥ turn went check, bet, call again, this time 3,100. And the 9♥ river — offering four to a flush and adding straight potential — went check, bet, call too. This time Ho's bet was 3,800.
Ho showed A♣J♥, for the jack-high flush. But Kobylinskiy had actually turned it with his K♥8♥ and must have hated the fourth heart on the end.
The pot went to Kobylinskiy regardless, and Ho is now sitting with 25,500. (The big stack on the table is James Frangoulidis, who has 110,000.) — HS
8:15pm: Lijo bets the river, Konnikova lets it go
Level 7 – Blinds 300/600 (BB ante 600)
On the first hand back from dinner, Maria Konnikova got involved in a tense one with Lander Lijo.
Coming onto it on the 3♦3♥Q♣ flop, it looked like Konnikova had probably raised and Lijo defended his big blind, then Lijo led for 1,500 and Konnikova called. Lijo would bet another 5,000 after the 2♣ and with deliberation Konnikova called once more, then after the 6♣ river Lijo fired a third time, this one for 12,500.
That bet represented a decent portion of what Konnikova had left, and after some time in the tank she gave her cards one last look before tossing them away.
Lijo is up to 36,000 now, Konnikova down around 24,000. –MH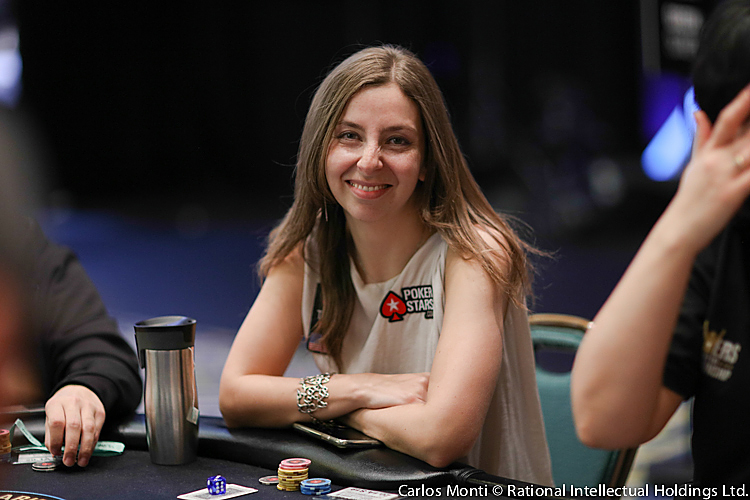 Maria Konnikova
8:11pm: Let's get something straight
Level 7 – Blinds: 300/600 (BB ante 600)
Goran Mandic didn't last too long after dinner. He got his last 18,000 chips in as a four-bet shove, with the three-bettor, Brock Wilson, calling on the button.
Mandic: 9♥9♦
Wilson: A♦T♦
It was a pair vs. over-cards situation, but Wilson got there the hard way. The 7♣8♦Q♦J♥9♣ gave him a straight. — HS
8:02pm: They didn't make dinner
Here are a handful of people who were knocked out before the dinner break. There are quite a few well-known players in there:
Joe Cada, Michel Dattani, Eric Wasserson, Fabiano Kovalski, Alexis Urli, Eric Sfez, Martijn Gerrits, Alexander Haber, Kristina Holst, Jake Schwartz, Michael Gathy, Wender Oliveira, John Krpan, Patrik Antonius, Russ Medlin, Christian Harder, Eduardo Parras, Juan Pardo, Michael Telker, Benjamin Pollak, Pablo Cabrera, Corentin Ropert, Kevin Macdonald, Sharman Olshan, Davidi Kitai, Jack Salter, Pierre Calamusa, Leonardo Balague, Ryan D'Angelo, Oliver Weis, Cliff Josephy, Tim Reilly, Anthony Diotte, Parker Talbot, Philippe Dauteuil, Joseph Cheong and Seth Davis. — HS
6:50pm: Gimme a break
Players are now on their dinner break. And so are we. We'll be back in 75 minutes.
6:42pm: What goes up must come down
Level 6 – Blinds 200/500 (BB ante 500)
It had all been going so well for Dzmitry Urbanovich this afternoon, but as the dinner break approaches, he is down to about 101,000 now. That's still vastly more than the average stack, but he had about 160,000 at one point.
The latest hand he lost resulted in a double for Marcus Kuhnen. It was a button vs. small blind encounter, with Kuhnen to Urbanovich's right. The Q♣6♣J♣ flop brought a bet of 4,200 from Urbanovich and a call from Kuhnen.
The turn was the J♦ and Urbanovich checked, then Kuhnen bet 6,200, leaving less than 20,000 behind. Urbanovich moved all-in, comfortably covering Kuhnen, but after a quick check of his cards, Kuhnen called.
Kuhnen's J♠T♥ already had Urbanovich's A♣9♠ drawing dead.
Kuhnen, therefore, moves up to about 50,000 while Urbanovich is just in six figures. — HS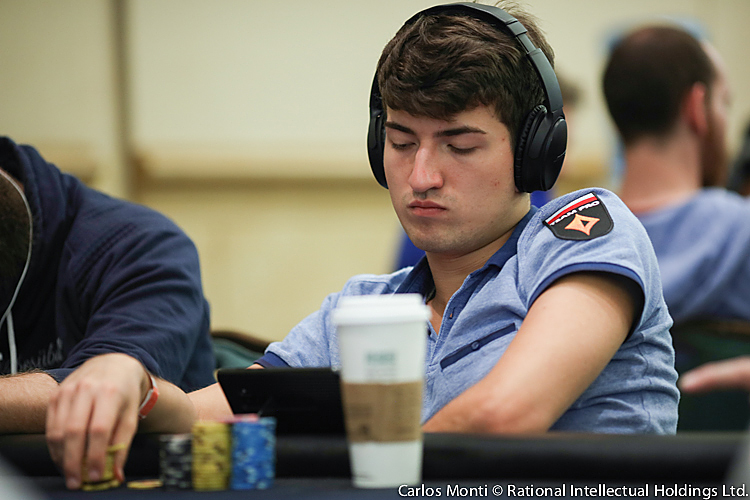 Dzmitry Urbanovich
6:38pm: Comasci now a big stack
Level 6 – Blinds 200/500 (BB ante 500)
Enrico Comasci just joined the ranks of the big stacks as the dinner break approaches, having chipped up to 130,000 after busting Martijn Gerrits. –MH
6:34pm: So good so far
Level 6 – Blinds 200/500 (BB ante 500)
When I arrived at Joe Cada's table just now, I had to stop.
"Ahhhh!!!" he said, then I thought I heard him say "so good!" At first I surmised the massage he is currently receiving was especially effective, but that first impression turned out to be wrong.
Soon I realized he was in the middle of contemplating how to respond to Andrew Chen's river check-raise, and his outcry and exhalation was referring to his hand being so good he didn't want to fold it.
To catch up, the board showed 3♦2♦4♣T♠T♣, and after Chen had checked Cada had bet 5,000 (or at least there was a 5,000 chip sitting before him). That's when Chen raised to 16,000, and that's also when Cada started talking to himself.
It was a humorous scene, actually, with Cada rubbing his hands together, shuffling his cards, rubbing his face, pinching his eyes, and searching the ceiling desperately looking for an answer to what to do. Finally he folded, and Chen chips up to 45,000 while Cada now has around 20,000.
Now I'm feeling the same anxiety Cada was. The scene was so good, but so far from being resolved. Ahhhh!!! –MH
6:19pm: "That's a start"
Level 6 – Blinds 200/500 (BB ante 500)
Noah Boeken, already on his second bullet today, was down to 12,000 and happy getting it all in with 7♠7♥ against Daniel Ott. Happy, that is, until he saw Ott's 8♥8♠. Then, not-so-happy…until the dealer flopped the 7♦. "That's a start," Boeken said. "A start?" said an incredulous Matt Glantz, implying Boeken couldn't have asked for much more. Boeken waited out the turn and river, neither of which caused him to sweat. He's now back up to 24,000. — BW
6:12pm: "It's Brian's world, we're just living in it
Level 6 – Blinds 200/500 (BB ante 500)
AA for BA and AQ for JJ. That's the long and short of it, which you understand, I'm sure.
If you don't happen to be conversant in the language of the poker reporter's notebook, here's the longer version: Brian Altman's pocket aces just beat the ace-queen in the hand of John Juanda and sent the latter out the door.
Juanda began things with an open to 1,200 from under the gun, and Altman then three-bet to 3,300 two seats around. Everyone else folded and Juanda pushed for 23,000. Altman didn't need a count. He called instantly and showed his A♣A♠ to Juanda's A♦Q♠.
The board brought a big fat nothing and Juanda was toast. Altman began stacking around 110,000 now, as Alexis Gavin gave an accurate summary of the situation from the other end of the table. "It's Brian's world, we're just living in it."
It's a cliche, but it's true. — HS
6:08pm: Seeing is believing
Level 6 – Blinds 200/500 (BB ante 500)
Jean Fontaine just lost a hand against Dylan Wilkerson, and when it was done Fontaine stood up and leaned over to get a better look at the board. It was one of those are-we-sure-we're-reading-the-board-correctly kind of looks, but it was true — Wilkerson had won it.
The pair had gotten Wilkerson all in on the turn with the board showing 4♦J♦9♥Q♦. Fontaine had K♥T♥ for a king-high straight while Wilkerson had J♣J♥ for a set. The river then brought the 9♣, giving Wilkerson a full house and the better hand. It was one of those boards that needed a second look, I'd say, speaking as an observer.
Wilkerson is up to 37,000 with that pot, while Fontaine slips to 12,500. –MH
6:01pm: Allison in Wonderland
Level 6 – Blinds 200/500 (BB ante 500)
Allon Allison is a fixture at the PCA. We don't see him at many other stops, but he is always here in the Atlantis in January, and he made the final table of the Main Event in 2017.
As ever, he is here this week and he just took a pot from Eric Sfez with some aggression.
The hand began with a raise to 1,000 from Allison, which was bumped up to 3,200 from Sfez. Only Allison called for the 2♥9♦8♣ flop. Allison checked, Sfez bet 3,600 and Allison then three-bet pushed for 21,800.
Sfez flicked them in. Allison is doing what Allison does. — HS
5:49pm: Big stack update
Level 6 – Blinds 200/500 (BB ante 500)
They have just crossed over into Level 6, which gives me joy as I get to report "Level 6 begins."
That also means the halfway point of this first Day 1 flight has been crossed. To mark the occasion, your humble scribbler took a trip around the tournament room to see who among the 265 players (or so) in action from the 332 total entries (so far) has the biggest stacks.
Here's a short list of standouts, all having spun their 30,000-chip starting stacks into six figures so far:
Dzmitry Urbanovich (Poland) – 135,000
Christopher Frank (Germany) – 110,000
Luke Graham (USA) – 110,000
Tomas Jozonis (Lithuania) – 105,000
Pavel Veksler (Ukraine) – 100,000
There were a few others hovering just below that 100,000-chip mark. One is Manig Loeser, Christopher Frank's fellow countryman who happens to be sitting on Frank's left at the moment, eyeing his chips much as I did just now. –MH
---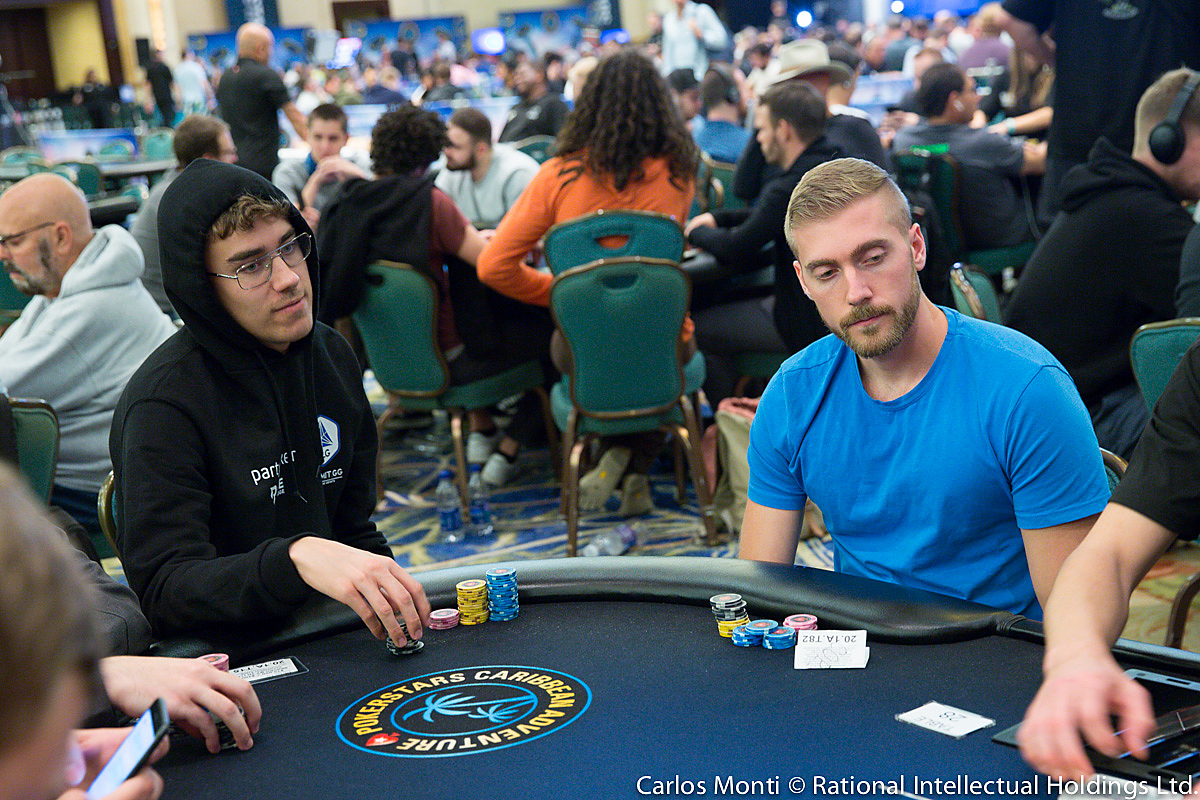 Christopher Frank (left) and Manig Loeser
---
5:42pm: Fast company
Level 5 – Blinds 200/400 (BB ante 400)
Dzmitry Urbanovich obviously hasn't built a stack of 140,000 without playing a few pots, and his eagerness and rapidity appears to have rubbed off on a table that is playing fast and loose.
Three hands played out in the time other tables were only seeing one. All of Dario Sammartino, Upeshka De Silva, Jeremy Ausmus and Charles Furey are also getting their chips moving.
In the first of these three hands, De Silva opened to 900 from the cutoff and Urbanovich called in the small blind. They both quickly checked the K♥8♦5♥ flop, and then Urbanovich quickly fired 1,600 at the 6♣ turn. De Silva quickly folded.
On the next hand, Sammartino opened to 900 and action folded to Louis Garza in the big blind. He jammed for 12,000 and Sammartino folded.
Then Nikita Lebedev opened to 1,000 from under the gun and Sammartino raised it up to 3,300 one seat over. Furey called on the button and Lebedev made what looked like a reluctant fold. Two of them saw the K♠6♣9♠ flop and Sammartino, now first to act, bet 3,500. Furey called.
The 4♠ turn brought another bet from Sammartino, this time to 7,000. Furey folded.
All of that took far less time to play than it did to write. — HS
5:32pm: Survival of the fittest
Level 5 – Blinds 200/400 (BB ante 400)
This week, we've had Survivor star Tyson Apostol out on the floor as a roving reporter. Yesterday, he was there as we crowned the PSPC champion, aka the ultimate survivor. –BW
5:26pm: Top players taking part
Level 5 – Blinds 200/400 (BB ante 400)
Sure, the $100,000 Super High Roller has some top tournament talent left in the field, but the ever-expanding Main Event has its share of tough tables, too.
---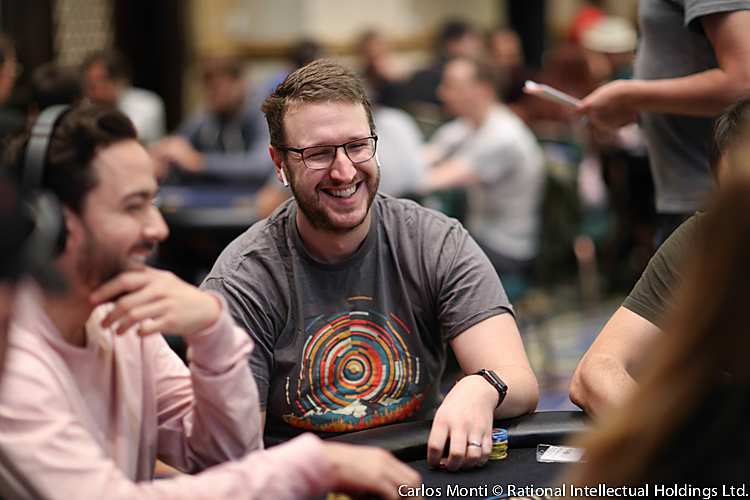 Max Silver
---
Christopher Kruk, Jack Salter, Ariel Celestino, and Daniel Strelitz are all currently sitting in one at the far end of the room at the moment. Meanwhile Davidi Kitai and Max Silver have also drawn seats side-by-side. –MH
5:22pm: Sevens unlucky for Dauteuil
Level 5 – Blinds 200/400 (BB ante 400)
Philippe Dauteuil got all his short stack in the middle holding 7♦7♠ with the board showing A♣4♦4♠. But it was a bad spot when Alan Schein called him and turned over 9♣9♥.
The J♦ turn and Q♣ river were no help to Dauteuil and he's out. Schein has 51,000 now. –MH
5:17pm: Gathy gathers
Level 5 – Blinds 200/400 (BB ante 400)
Rodger Johnson opened to 900 from under the gun and Michael Gathy three-bet to 3,000 from the button. Neither of these men had especially big stacks, and when Johnson called, the likelihood of a shove coming at one point or other rose considerably.
The flop was the 6♦8♥9♥ and Johnson checked, then to be faced with a bet of 2,400 from Gathy. Johnson called.
The K♦ fell on the turn and Johnson checked again. Gathy now asked to see Johnson's remaining stack, using the universal gesture for that request in contemporary poker: the flicking upward of a hand, indicating that an opponent needs to move his hands to stop shielding chips. Johnson obliged and showed the 14,000 he had behind.
Gathy said that he was all-in, with about 20,000. Johnson thought about asking for a count, but didn't go through with it. He folded. — HS
5:12pm: Quads for Kauppila
Level 5 – Blinds 200/400 (BB ante 400)
With the board showing 6♠Q♦J♦, Daniel Hinton was calling a bet (or raise, possibly) to 7,300 by Jouni Kauppila, though to be honest he didn't look too excited about doing so. Both checked the Q♣ turn, then Hinton checked the 6♣ river as well. This time Kauppila bet 7,000, and when Hinton folded, Kauppila showed what he had — Q♠Q♥ for quads.
Hinton's expression quickly changed from glum to glad. "I knew you had one," he laughed. "Well done."
Hinton is still on 43,000, while Kauppila is at 35,000. –MH
5:06pm: Akkari, Deadman, and other dead men walking
Level 5 – Blinds 200/400 (BB ante 400)
Team PokerStars Pro Andre Akkari just went bust. Here are some of the most recent eliminations: Ryan Oilsair, Lee Markholt, Franz Ditz, Luis Maria, Sergi Reixach, Nacho Barbero, Rainer Kempe, Charles La Boissonniere, Joe Elpayaa, Mariius Gierse, Ryan Hughes, and Simon Deadman. –BW
---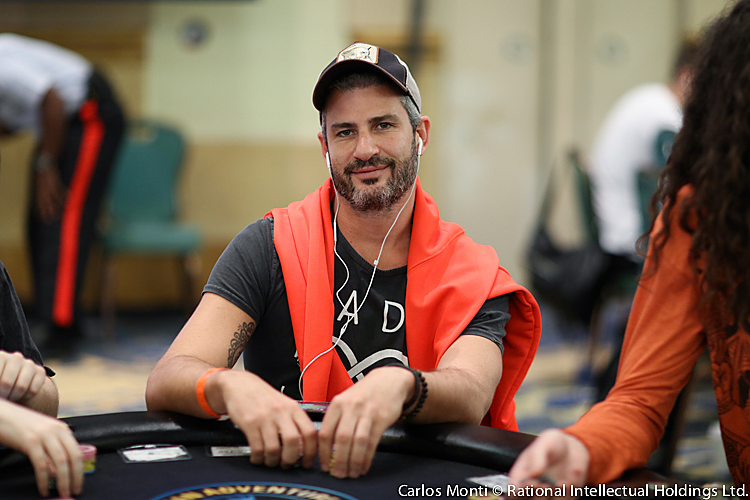 Nacho Barbero among the early fallers
---
5:02pm: Fuss avoids fuss, watches Melogno collect with aces
Level 5 – Blinds 200/400 (BB ante 400)
David Fuss opened for 1,000 from the button, but as things turned out, he'd be glad he didn't get involved in this one.
That's because Luis Faria three-bet from the small blind to 3,600 and Pablo Melogno called from the big blind. Fuss folded, and the remaining pair saw the flop come T♥7♣Q♣. Faria led for 3,200 and Melogno called. The turn brought the 3♠ and an all-in push for 12,000-ish from Faria, and Melogno called right away.
Faria had A♠Q♣ for top pair of queens, but Melogno had flatted with A♠A♣ and after the 9♠ river Faria was out. Melogno is up around 45,000 now.
Fuss and Melogno chatted afterwards, with Fuss obviously glad he'd had a hand with which he could avoid getting caught in Melogno's trap, too. –MH
4:56pm: A disappointing turn of events
Level 5 – Blinds 200/400 (BB ante 400)
Not much gratification for the cards-up only brigade here, I'm afraid, as we'll never know what any of five players involved pre-flop actually had. The hand ended with the fourth community card. It was a disappointing turn of events.
Kilian Kramer opened the pot to 1,000 from UTG+1 and all of Oliver Weis, Sirzat Hissou, Shaun Deeb and Ralph Wang called, with the latter in the big blind.
The five of them saw the J♣2♦K♠ flop and all of Wang, Kramer and Weis checked. Hissou took a stab, making it 1,800, but it wasn't enough to shake either Deeb or Kramer. Deeb checked, but Kramer check-raised to 6,800.
After Hissou called that, Deeb decided his hand was over. It was then down to the dealer to put the Q♦ on the turn.
Kramer checked and Hissou pushed all-in for 14,000. Kramer had seen that coming and had a plan for the precise eventuality. He put it into action quickly: a fold. — HS
4:52pm: Going nuts at Table 14
Level 5 – Blinds 200/400 (BB ante 400)
Cliff Josephy is munching on a big bag of nuts over at Table 14. There are more there than any man could eat on his own in one sitting. As he chewed, Andrew Chen came in for a raise to 900. Athanasios Polychronopoulos came along from the button for a 7♠8♦6♦ flop.
Both players checked through that and the A♠ on the tun. The river was the 9♣, and Chen put out 2,100. Polychronopoulos snap-called to see Chen's A♣5♣. The bottom of the straight was good for the pot. Josephy stood and walked around the table where he have Polychronopoulos a big handful of his snack. That is to say, Polychronopoulos may not have won the hand, but he still has the nuts.–BW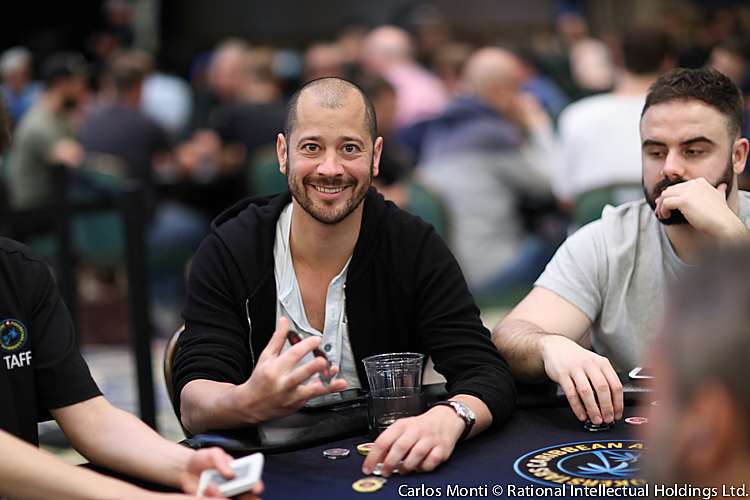 Athanasios Polychronopoulos
4:27pm: Break time
Level 4 is over, and players are off on their next 20-minute break. –MH
4:26pm: Dropping like flies
Level 4 – Blinds 100/300 (BB ante 300)
Here are some more folks who've shuffled off that mortal coil today: Vittorio Dicrisco, Aaron Olshan, Andrey Kotelnikov, Sosia Jiang, Michael Dyer (second bullet), Nathan Amar, Harrison Gimbel, Eno Bozzano, Thomas De Silva, Christian Rudolph, Alan Schein, Grayson Ramage, Lauren Roberts, Noah Boeken, George Philippovich, and Matthias Frost. –BW
4:25pm: River diamond saves Sammartino
Level 4 – Blinds 100/300 (BB ante 300)
Nikita Lebedev opened for 800 and got two callers in Dario Sammartino on the button and Dzmitry Urbanovich playing from the big blind.
All three checked the 5♠4♠9♦ flop, then after the 8♦ turn Urbanovich plucked chips off his already big stack to bet 1,900. Lebedev then raised to 5,100, and when Sammartino jammed in over that Urbanovich grinned as he got out.
Lebedev called, showing 9♣9♠ for a flopped set while Sammartino had a flush draw with A♦Q♦. The river was the 2♦, giving Sammartino a flush and enabling him to keep his seat.
Sammartino has 25,000 now while Lebedev slips to 15,000. Meanwhile Urbanovich has one of the bigger stacks through four levels as he has 120,000. –MH
4:20pm: Push and shove
Level 4 – Blinds 100/300 (BB ante 300)
It seems certain there had been an opening raise before I arrived to the table to watch the following pot play out. That's because John Juanda, on the button, had 2,300 in front of him, and 8,500 in front of Brian Altman in the big blind. The decision was now back on Juanda, which meant the original raiser had been pushed aside already.
---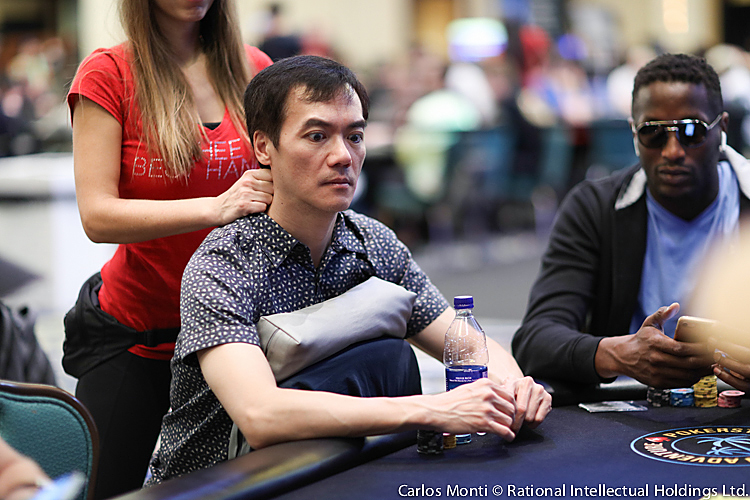 John Juanda
---
Juanda opted to call and the two players saw the 4♠4♥5♦ flop. Altman bet 4,000 and Juanda called.
The 7♦ turn did not discourage Altman. He picked up all his chips and moved them forward: it was a shove of 26,000 but Juanda was the effective stack with only about 22,000 left.
Juanda thought about it for a while, but then folded. Altman stacks up 55,000 now. — HS
4:10pm: Levy breaks Kotelnikov
Level 4 – Blinds 100/300 (BB ante 300)
With the board showing Q♥9♥7♦, Andrey Kotelnikov bet 5,500, then Carlos Levy raised to 11,000. Kotelnikov sat quietly for a short while before calling, and both watched the dealer produce the 4♣ turn card.
Kotelnikov again paused a beat, then announced he was all in for the 20,000-plus or so he had left and Levy called right away. Kotelnikov turned over his A♣A♠ and was disappointed to see Levy had a set with 9♣9♠. The river was a blank, and Kotelnikov departed.
Levy is up to 85,000 with that knockout. –MH
4:05pm: Buck shot
Level 4 – Blinds 100/300 (BB ante 300)
Last year's runner-up Shawn Buchanan is already out of this tournament — though can re-enter any time between now and Saturday at noon. The last of Buchanan's chips went to Francois Billard, when Billard's J♠8♠ was better than Buchanan's T-9 on a K♠T♠K♦Q♠A♦ board. It looked as though Buchanan only had about 1,500 at that point though, so there was plenty of previous action that we regrettably missed.
The long and short is the same, though: Buchanan will need to fire twice if he's to match last year's showing. — HS
4pm: The immaculate Concepcion
Level 4 – Blinds 100/300 (BB ante 300)
Pierre Calamusa had less than 2,000 in his stack and was sitting in the big blind when he watched Tim Reilly open to 700 and Jonathan Concepcion three-bet to 2,300 from one seat to Reilly's left. Sensing the chance for a triple-up, Calamusa called. Reilly added the extra too.
So Calamusa sat silent and helpless as Reilly and Concepcion built a side pot. And they did indeed build one. The dealer deposited the T♣K♠8♠ flop, which Reilly checked. Concepcion bet 2,400 and Reilly called. That brought the 5♦ turn. Reilly checked, Concepcion bet 6,200 and Reilly called.
The 4♣ river didn't appear to change very much, and the betting pattern duly repeated. Reilly checked and Concepcion moved in for 23,000. That just about covered Reilly, and he chose to fold this time.
Concepcion had already won the side pot when he showed his A♠A♦. The "main" pot (of around 6,000) was heading in Calamusa's direction as his 5♣T♠ had hit an improbable two pair. — HS
3:55pm: Hand reading
Level 4 – Blinds 100/300 (BB ante 300)
After Calvin Anderson opened for 700 from middle position, Markus Durnegger reraised all in for 7,200 from a seat over and it folded to Daniel Hinton in the small blind. Hinton was very interested, it appeared, proving as much by asking for an exact count of Durnegger's push.
After a lengthy pause Hinton announced he was calling and put forward a stack of chips. It folded to Anderson who showed one of his cards — the A♠ — before he folded, too.
Durnegger tabled 7♠7♣. "I put you on ace-ten," said Hinton as he turned over 2♠2♣.
The board came 9♦T♦Q♦4♣Q♠, and Durnegger now has about 16,000 while Hinton slips to 50,000.
"I thought you had ace-ten," repeated Hinton, and Durnegger couldn't avoid responding. "Exactly ace-ten?" he asked. "Not ace-jack or ace-queen?" The table laughed a little and with a grin Hinton confirmed the hand had popped in his head.
"What colors?" asked someone, and they chuckled a bit more. –MH
3:47pm: Small double for Reixach
Level 4 – Blinds 100/300 (BB ante 300)
Sergi Reixach just doubled a short stack through Dennys Ramos after pushing with K♥Q♠, getting called by Ramos who had 6♣6♥, and happily watching a board fill out A♣9♣K♣2♥9♠ to give him the better pair.
Reixach still has some work to do, though, down as he is to 9,000 even after that one. Ramos has 45,000. –MH
3:40pm: Pascal's triangle
Level 4 – Blinds 100/300 (BB ante 300)
Pascal Hartmann just check-shoved on Erik Seidel, forcing a fold from the legend of the New York poker scene. If you're going to get in a pot against Seidel, you have to mean it. And Hartmann meant it.
Hartmann opened to 700 from mid position and Seidel three-bet to 2,500 from one seat along. Everyone else folded (both Cliff Josephy and Andrew Chen were listening intently to a yarn told with great enthusiasm by Joe Cada) and Hartmann called.
---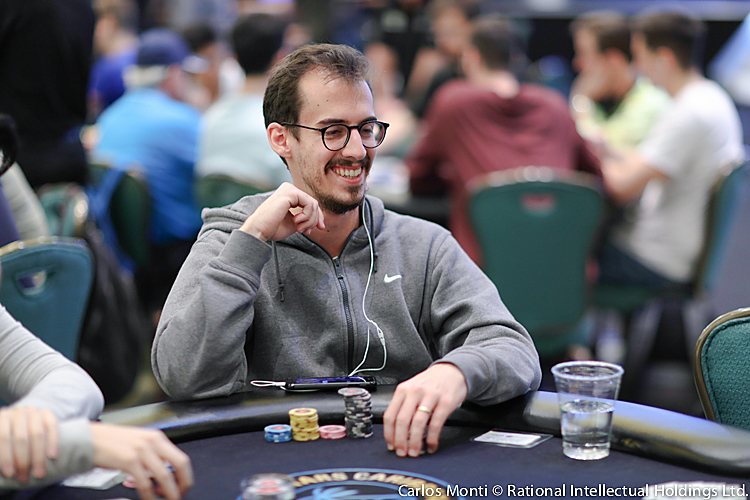 Pascal Hartmann (sans triangle)
---
The flop was the 7♠Q♥2♥ and Hartmann checked. Seidel bet 2,000 and Hartmann called.
The turn was the 4♦ and Hartmann checked again. Seidel bet 7,000 and Hartmann moved all-in, with the dealer tossing the all-in triangle in his direction. The shove was for 15,500 but Seidel was either able to count it easily without assistance, or had no intention of calling.
Seidel folded. — HS
3:37pm: All hands on deck
The PSPC may be over, but the people who played it are still reveling in their experience…even the time after they busted out. Want to see how much fun they had? Check out this excursion they decided to take together.–BW
3:34pm: Sow it goes
Level 3 – Blinds 100/200 (BB ante 200)
As Level 3 came to a close, Lauren Roberts was pushing her last 13,900 in the middle with Q♠Q♦ on a J♠7♣5♠4♦ board, but alas for her Kalidou Sow was more than ready to call her shove holding 7♠7♦ for a set of sevens.
---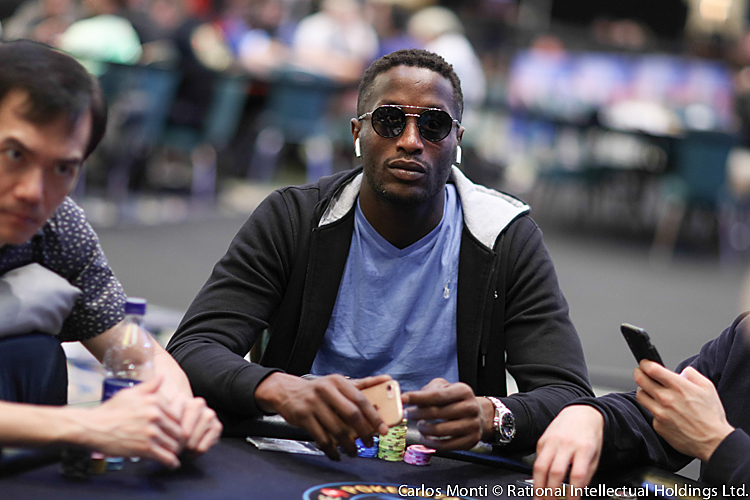 Kalidou Sow: Always dangerous
---
The 4♠ completed the board, and Roberts won't be around for Level 4. Sow, meanwhile, carries forward with about 60,000. –MH
3:25pm: Kings serve Smith
Level 3 – Blinds 100/200 (BB ante 200)
I came up on a three-way hand involving Elliot Smith, Romain Lewis, and Maria Ho just now, one that had involved enough preflop back-and-forthing to get Ho to fold, Smith to commit all his chips, and Lewis to commit most of his.
---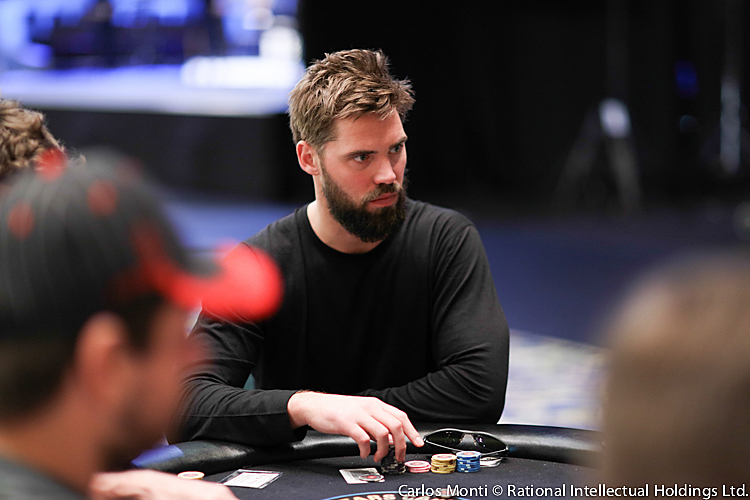 Elliot Smith: Streamlined version
---
Smith had K♠K♥ and Lewis Q♥Q♦, and after the board came nine-high — 5♦3♦9♠5♣7♥ — Smith bumped up to about 50,000 and Lewis slipped down to 8,000. Ho, meanwhile, holds steady at 42,000. –MH
3:20pm: Olshan over Seidel
Level 3 – Blinds 100/200 (BB ante 200)
Sharman Olshan just won a pot off of Erik Seidel. It began with Seidel opening from under the gun, then Olshan three-bet from middle position and Seidel called.
Seidel would subsequently check-call the Q♠7♠9♥ flop (for 1,400) and T♣ turn (for 3,000). But after the 4♥ river he checked again, and when Olshan bet 5,000, Seidel folded.
Olshan is at 34,000 now and Seidel 29,000, both still close to the 30,000 with which each started. –MH
3:20pm: Cooler and the Gang
Level 3 – Blinds 100/200 (BB ante 200)
Here's a four-handed cooler to report from Level 3. Cooler and the gang, in other words.
The hand began with an open to 600 from Eric Sfez from early position, and then Dimitar Danchev called from two seats along. Christian Rudolph then called on the button, and Lars Kamphues called in the big blind.
The quartet saw the 5♣9♦K♠ flop and Kamphues checked. Sfez checked too, but Danchev bet 1,100. Rudolph called on the button, which persuaded Kaphues out of it.
Sfez wasn't done, however. He check-raised to 6,600 into two opponents. Danchev, emotionless, called. But then Rudolph moved all-in for 22,100.
This put Sfez deep into thinking mode and he umm-ed and err-ed for a long time before eventually flicking his cards away. Good for him. Danchev called instantly and turned over 9♣9♠ for middle set. Rudolph's 5♦5♠ was also a set, but not good enough at all.
Rudolph heads out the door (he can buy-in again if he wants) as Danchev pushes up to about 60,000. — HS
3:04pm: Biting the bullet
Level 3 – Blinds 100/200 (BB ante 200)
These are the folks who have already lost their first bullet today: Ignor Tregoubov, Brian Yoon, Michael Dyer, Monique Leonard, Jorge Martinez, Paul Michaelis and Haim Gabay. –BW
2:55pm: Nothing is ever easy
Level 3 – Blinds 100/200 (BB ante 200)
Arsenii Karmatckii, a PokerStars qualifier from Russia, opened the pot to 600 from mid-position and picked up Javier Zapatero as a caller in the hijack. But then Oliver Weis, on the button, reminded both opponents that nothing is ever easy with him around. Weis three-bet to 1,500. Karmatckii called, but Zapatero was done with it.
The dealer put the J♦2♥9♣ out there and both players checked. Then the 5♥ came on the turn. Karmatckii bet 1,700 but that sprung Weis into action. He raised to 5,600 and picked up another pot as a result. — HS
2:38pm: Alvarado makes hay while the sun shine
Level 3 – Blinds 100/200 (BB ante 200)
JC Alvarado is continuing his dominant streak on Table 2, although the seat formerly occupied by Haim Gabay now houses Rainer Kempe, while Max Silver has slid in next door. Alvarado may have some more thinking to do from now on.
In this recent pot, Samuel Guilabert opened to 500 from under the gun and Alvarado bumped it to 2,200 on the button. Guilabert called. The dealer gave them the A♥7♦6♣ flop and Guilabert's check prompted a bet of 1,600 from Alvarado. Call.
The 2♠ turn ended Guilabert's interest. He check-folded when Alvarado bet 6,000. — HS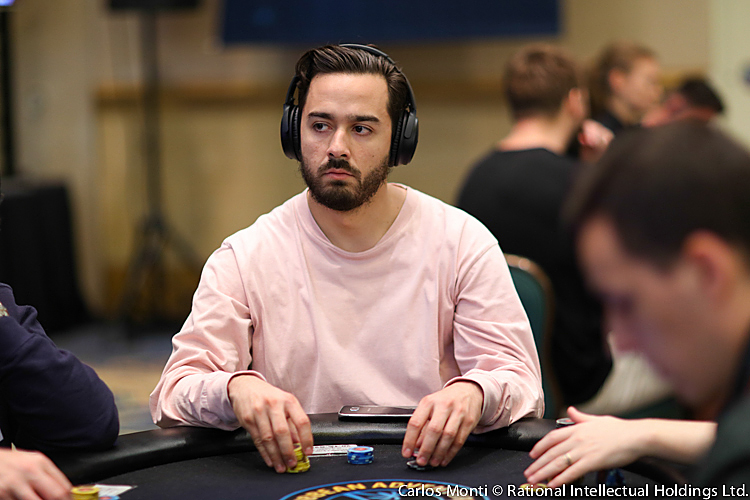 J.C. Alvarado
2:35pm: Michaelis busts to Eiler
Level 3 – Blinds 100/200 (BB ante 200)
Players are back from the break and Level 3 has begun. Some late-breaking news from the previous level to share, something I heard through the grapevine during the break — EPT Prague Main Event winner Paul Michaelis has already been felted.
Word is he lost his chips to Andreas Eiler whose current stack of 77,000 or so provides supporting evidence for the report. Further details include that Eiler flopped set over set (kings over treys) and turned quads, with all the money going in on the river. –MH
2:15pm: Break time
Players are off on their first 20-minute break of the day. –MH
2:13pm: Wasserson backdoors Broadway
Level 2 – Blinds 100/100 (BB ante 100)
With about 4,000 in the middle and the board showing K♦Q♣4♦8♠, Eric Wasserson led for 1,500, then Ryan Olisar raised to 5,100 to knock out the third player involved.
Action back on Wasserson, he leaned forward to get a look at Olisar's stack. "Three blues?" he asked, referring to Olisar's 5,000 chips, and the latter nodded. Wasserson called.
The river was the A♣ and Wasserson checked. Olisar checked behind and tabled his cards, though quickly flipped them back over after Wasserson showed he'd rivered Broadway with J♦T♦.
Olisar still has those three blues, plus some yellows, pinks, and blacks adding up to 26,000. Meanwhile Wasserson has a few more of each as he's up to 37,000. –MH
2:12pm: Start as you mean to go on
Level 2 – Blinds 100/100 (BB ante 100)
The field is swelling and is also toughening up, with Paul Michaelis, Adrian Mateos, Pierre Calamusa and Christopher Frank also now seated. There are 187 registered at time of writing.
Oliver Weiss is also now seated, and he was quickly involved in a hand against Vicent Bosca. Weis likes to get his chips in, and started as he surely means to go on.
Weis opened to 300 from early position and Kevin Andriamahefa called a couple of seats over. Bosca three-bet the button to 1,700 and Weis responded with a four-bet to 5,500. Andriamahefa was out, but Bosca asked Weis how many chips he had. "Thirty," Weis said. "I just started." It was a fair response. Bosca called.
The flop was the 9♣3♦9♦ and Weis stabbed 5,000 at it. Bosca called. Then the 7♦ fell on the turn. Both players clearly thought about betting, but both ended up checking, and that then brought the A♠ on the river.
It went check, check again and that meant we could see their cards: Q♥Q♠ for Weis and K♣K♠ for Bosca. Bosca won it.
Though it was possible they were up to no good, the hand actually played out exactly as expected given the holdings, and especially given the ace on the river. — HS
2:01pm: Every dog has its day
Level 2 – Blinds 100/100 (BB ante 100)
We're half way through this festival, and while the Main Event is just starting it's easy to get nostalgic for the comforts of home.
That applies to Jake Schwartz on table 1, who played an active part in the PSPC this week, finishing in 12th place ($261,750). That's all well and good, but Schwartz is thinking about his dog.
"I miss him," he confessed. The dog eat dog world of poker put aside for a moment, and replaced with a touching man loves dog storyline.
"What's his name?" asked Maria Konnikova, picking up Schwartz's momentary vulnerability.
---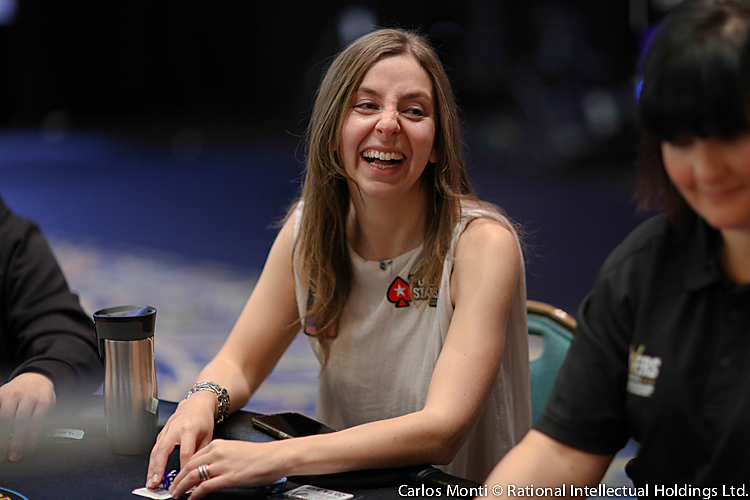 Maria Konnikova
---
"Yogi", he replied, with a straight face. And he was thinking of getting another. Boo-boo perhaps.
At this point Nauvneel Kashyap called the floor. He went to great lengths to make it clear it was not because of the subject matter. – SB
1:58pm: Pavel picks up value
Level 2 – Blinds 100/100 (BB ante 100)
Three players saw a flop come T♣J♥6♠, and after checking from the big blind, Brett Bader watched Martin Raus bet 600 from middle position and Pavel call from the button. Recognizing how two is company but three is a crowd, Bader folded.
The flop was the 7♣. Raus checked this time, Pavel bet 1,600, and Raus called. The river brought the 5♥ and another check from Raus, and Pavel fired 4,300. Raus thought about a minute, finally gathering chips to call and tossing them forward. Pavel tabled A♣J♠ for jacks, and Raus mucked.
Pavel has just over 40,000 now, Raus 25,000. –MH
1:54pm: It's the hope that kills you
Level 2 – Blinds 100/100 (BB ante 100)
"I hope you have ace-king," Haim Gabay said to JC Alvarado as he dumped his whole stack over the line to call Alvarado's shove. But as a wise man/cliche-peddler once said, "It's the hope that kills you."
The two players were already at the river, with the board showing 3♦K♠6♣2♣T♠. Alvarado checked, Gabay bet 5,000 and then Alvarado moved in. It was at this point that Gabay gave his short speech and called, with Alvarado then turning over his T♣K♣. Gabay was forced to show his A♠A♣, aces cracked, and pack his things to leave.
I'm afraid I didn't see any of the action, nor how many chips Gabay had left, but they are all now with Alvarado. His stack is 43,000. — HS
1:56pm: All's well that ends well for Aldemir
Level 2 – Blinds 100/100 (BB ante 100)
Koray Aldemir is here. And he just won a pot off of Brian Altman to slow down the latter's fast start just a touch. The hand Aldemir made might not have been the one he was aiming for, but it worked out nonetheless.
Picking up the action on the 2♥K♠9♠Q♦ turn, Aldemir had bet 1,700 then watched Altman raise to 5,500. Aldemir paused a beat before calling, then both players quickly checked after the A♥ river.
Aldemir tabled A♠T♠ to show he'd called with a flush draw and then rivered top pair, and Altman mucked. Aldemir has 35,000 after that, while Altman is on 48,000. –MH
1:35pm: Power poker
Level 2 – Blinds 100/100 (BB ante 100)
If you're not in the Super High Roller WhatsApp or Telegram groups, you may have missed the memo: over-betting the pot is the new jam. Here's an example from Luc "Bit2Easy" Reeves, who was in a pot against Andrew Chen.
The board was out all the way: 8♠Q♥Q♦3♣5♣ but only 4,700 was in the middle. Reeves bet 7,000.
Chen went into the tank for a long period before eventually calling. Reeves showed his 8♣8♥. So in this instance, it was a value (over)-bet. But what about the next time?
Chen paid the price and is down to 21,000 as a result. — HS
1:26pm: The Third Man (or Three's a Crowd)
Level 2 – Blinds 100/100 (BB ante 100)
Eric Vallee and Sergei Reixach renewed their acquaintance (see 12:40pm) in the following pot, but it was actually Carlos Levy, the third man in the hand, who ended up scooping it.
The three of them had somehow got more than 6,000 in the middle pre-flop, which most likely represents a raise, a three-bet and two calls. Reixach was under the gun, Levy was two seats over and Vallee was on the button.
Reixach checked the K♥8♦6♣ flop, leading to a bet of 4,500 from Levy. Vallee now stepped aside, but Reixach called.
The turn was the 9♠ and Reixach checked again. Levy then bet 7,000 and that was enough. He took it down. — HS
1:23pm: Benger carries lead into second level
Level 2 – Blinds 100/100 (BB ante 100)
I'm going to declare Griffin Benger the chip leader as action moves into Level 2. That might be a bit bold, but hey, fortune favors the bold.
He took the lead on the last hand of Level 1, actually, after knocking out Jonathan West. I arrived too late to see West's hand, but I did see Benger had Q♥9♠ and the flop had come Q♦Q♣9♣, meaning Benger had flopped a full house to crack whatever West had.
"I'm going to take the day off guys," cracked Benger afterwards. "See you guys in a couple of days."
Benger will of course keep playing hands here as Level 2 gets going. We'll keep an eye on how he uses that leading stack of about 77,000. –MH
1:15pm: It's always the quiet ones
Level 1 – Blinds 100/100
Sosia Jiang finished 28th in the PSPC for $105,000, but that wasn't even close to her biggest live tournament score. A little over a year ago, Jiang won the PokerStars Championship Macau High Roller, for something like $500,000. She is comfortable in any field and at any stakes.
She just picked up a pot from Matt Glantz, after she called on the button following Glantz's cutoff open to 300. Tim Reilly also called in the big blind.
The three of them saw a flop of 5♦T♥2♠, which Reilly checked. Glantz bet 400 and Jiang bumped it to 1,200. Reilly folded, but Glantz called.
They both checked the 6♠ turn, and Glantz also checked the J♣ river. Glantz bet 2,800 and Glantz folded. — HS
1:07pm: Nolet feels dirty, but cleans up
Level 1 – Blinds 100/100
"Dirty, dirty," said Guillaume Nolet after winning an all-in versus Vittorio Dicrisco. "I feel dirty right now."
A player just arriving at the table asked why, and Nolet explained how he'd just hit a two-outer to survive after getting all his chips in the middle on the turn.
The board had showed J♦8♠7♦K♠, and Nolet had committed his chips holding J♣7♠ for two pair. But Dicrisco had turned a better two pair with K♥J♥, thereby creating the two-outer scenario for Nolet.
You know how this ends. I already gave the ending away. The 7♣ on the river elicited one of those involuntary verbal expression of disappointment from Dicrisco that is completely understandable. So, too, is Nolet's feeling dirty after winning in such a way. He's at 45,000 now, while Dicrisco is down to 13,000. –MH
12:59pm: Reilly and Jiang back at it
Level 1 – Blinds 100/100
We've been watching Sosia Jiang and Tim Reilly play the last several days as Jiang took 28th ($105,000) and Reilly 123rd ($35,000) in the PokerStars Players Championship.
Those two are seated at the same table today, and just now when Reilly opened a pot and the button called, Jiang called as well from the big blind. Jiang was the only one calling Reilly's continuation bet after a K♥K♣4♣ flop, then both checked the 4♠ turn.
The 4♦ river then put a full house on the board, and so Jiang chose to call Reilly's 1,000-chip bet. She showed A♥3♥, he showed 6♠5♠, and they chopped it up. –MH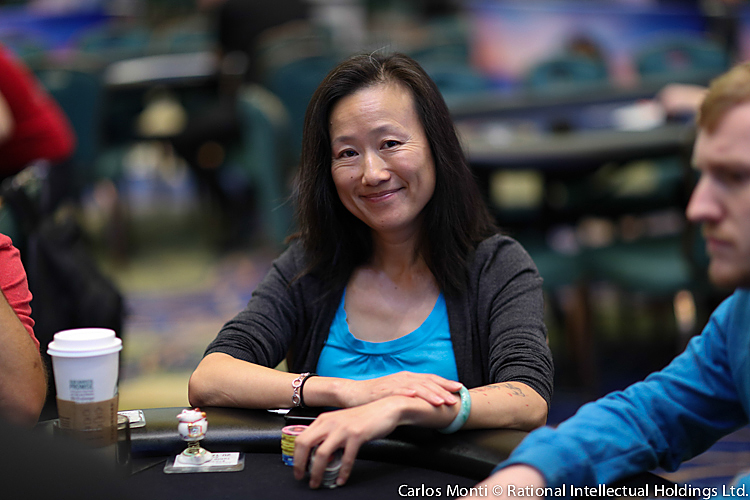 Sosia Jiang
12:50pm: One of three
Level 1 – Blinds 100/100
Harrison Gimbel is now seated, meaning at least three former PCA champions are already in the Day 1A field. They are John Dibella, Dimitar Danchev and the aforementioned Gimbel.
---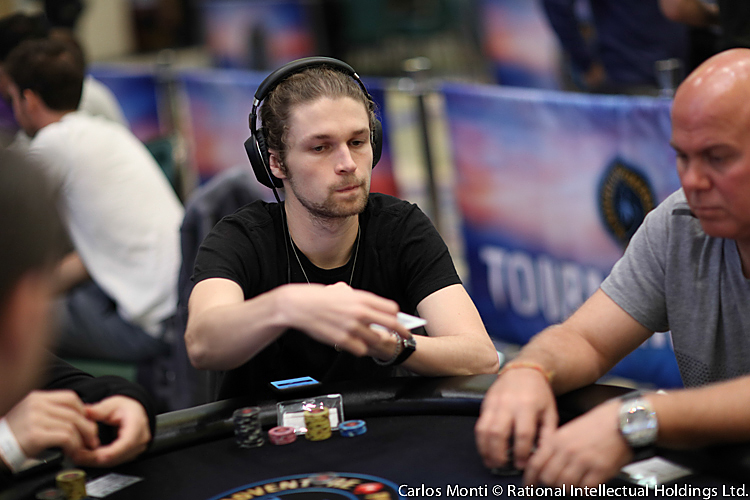 New arrival: Ben Heath
---
Gimbel just lost a pot when he was check-raised off a hand that had got to the turn, but he didn't seem unduly bothered. He nodded hello to Ben Heath, who has joined the table. Noah Boeken is also with them. — HS
12:45pm: Playing the board?
Level 1 – Blinds 100/100
Charles La Boissonniere opened for 300 and got calls from both Monique Leonard in the small blind and Ricardo Sousa in the big.
The flop came K♥9♥J♥
That was checked three ways for the 3♥ on the turn, which was also checked.
The river card was the Q♥ which put a flush on the board. Leonard took a stab at it, making it 1,000 to play, and Sousa immediately raised, making it 4,500. That forced La Boissonnaire out, and Leonard also. – SB
12:40pm: Reixach loses to Vallee
Level 1 – Blinds 100/100
The first 10,000-plus pot of the day just went to Eric Vallee, and it also drew the first slight reprimand for the defeated Sergi Reixach. Nothing got too out of hand, but Reixach suggested he may have been outdrawn.
The board was out all the way by the time I arrived, and it was Vallee in mid-position versus Reixach on the button. There was already 10,800 in the pot beside the following cards: 4♠4♦2♣T♣3♦.
Reixach checked and Vallee bet 3,500. Reixach put one chip forward to call and was shown Vallee's T♦T♠ for a boat.
Reixach knew he had to pay the extra and tossed his chips forward with evident frustration. They rolled across the table into another opponent's stack.
The dealer reminded Reixach that it wasn't quite the done thing to be spilling chips over the table, but it was nothing more than a quiet word. On they go. — HS
12:35pm: Aces aid Altman
Level 1 – Blinds 100/100
With a little under 5,000 in the middle and the board showing 9♣A♦6♦7♥K♣, Alexis Gavin led for 3,100, then watched her lone opponent Brian Altman fire a big raise to 14,500.
Gavin tanked for a while, then gathered calling chips and set them forward. Altman flipped over A♠A♣ to show he'd flopped top set with the biggest pair there is, and Gavin nodded with a grim smile as she mucked. A nice start for Altman, who is up over 50,000 already while Gavin slips to a little under 20,000. –MH
12:25pm: Tough tables
Level 1 – Blinds 100/100
There's a pretty extraordinary table already nearly full out there in this small (so far) field. Dan Ott, Grayson Ramage, Sosia Jiang, Matt Glantz, Tim Reilly and Johannes Becker fill six of the eight seats.
The seat draw also hasn't been especially kind to Cliff Josephy, Andrew Chen, Dimitar Danchev and Athanasios Polychronopoulos either. They sit together as well.– HS
---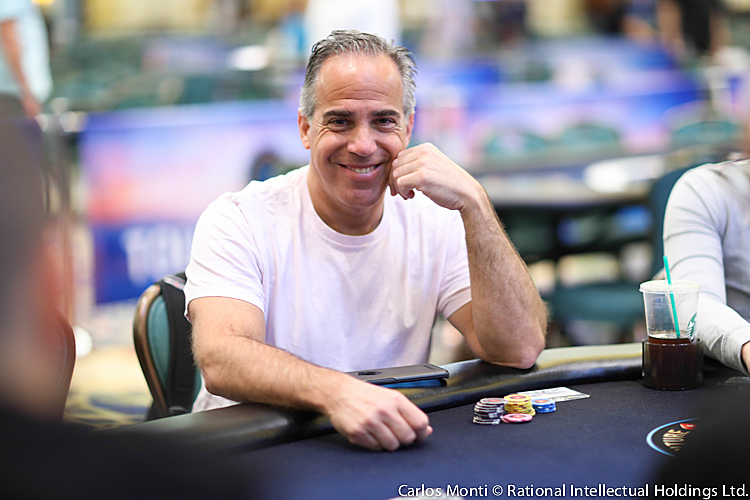 Cliff Josephy: Last year's finalist
---
12:20pm: Main Event tested
Level 1 – Blinds 100/100
Winning the PokerStars Caribbean Adventure Main Event means negotiating a large field of opponents through a challenging, multi-day tournament to the final table. There are three players seated at present who have each done just that during recent years in the World Series of Poker Main Event.
Martin Jacobson of Sweden is here. He won the WSOP Main Event in 2014, earning $10 million for doing so.
Dan Ott of the United States is in the field as well. He took second in the WSOP Main Event in 2017, picking up a nice payday of $4.7 million.
Cliff Josephy was in his seat to begin as well. "JohnnyBax" finished third in the WSOP Main Event in 2016 for $3,453,035. –MH
12:15pm: A biggish pot to get things started
Level 1 – Blinds 100/100
At least two players figured they'd get stuck into a pot within the first few minutes of the day.
On a board of 4♣4♠3♦6♣2♦ there was something like 11,000 in the pot and the action was on Carlos Chadha. He checked, leaving the final decision to Arkadiy Tsinis, a player branded to the teeth with the logo of a call centre company.
He checked too and watched Chadha turn over A♥J♠. Tsinis though had T♥T♦, and won the pot. He's off to a good start, up to 37,000. – SB
12:10pm: Early arrivers
Level 1 – Blinds 100/100
Players who have arrived to play the first hands dealt are all focused on a similar goal — namely, to grow those 30,000-chip starting stacks behind which they were each seated.
There's a similar feel on a broader scale walking around the 15 or so tables in action to begin. That is to say, while the Main Event is starting somewhat modestly in terms of players (there are about 80 seated at the moment), it will be no doubt be growing steadily over the first hours today and especially when tomorrow's second Day 1 flight arrives.
---
Andre Akkari among the early arrivals
---
Among those looking to build early are Paul Vas Nunes, Jimmy Guerrero, Mike Leah, Athanasios Polychronopoulos, and Team PokerStars Pro Andre Akkari.
More to come — literally. –MH
12:05pm: Start your engines… and they're off
Level 1 – Blinds 100/100
On the very stroke of 12:05pm, play is under way. We have 79 players already seated and that number will only increase through the next 10 hours. — HS
11:30pm: And there's more
The worst thing about major poker tournaments is that they have to end. But the good news for poker fans this week is that the minute they do, another one rolls right along.
Although we are still picking ticker tape from our hair after celebrating Ramon Colillas's extraordinary platinum-gilded triumph in PokerStars Players Championship (PSPC) in the Bahamas last night, it's time today for the PokerStars Caribbean Adventure (PCA) to begin.
In actual fact, the PCA festival has already started as the $100,000 Super High Roller kicked off a few yards from the PSPC final yesterday. Henrik Hecklen bagged the overnight chip lead, and they'll be playing their Day 2 today.
But also kicking off at noon is the $10,000 PCA Main Event, which has been a January fixture for more than a decade. If it hadn't been for the PSPC, we would be shouting from the rooftops about the start of the New Year's first major tournament, but, well, Platinum Passes, $5.1 million, and all that.
The Atlantis Resort: A new dawn, a new day
However, this event is also certain to be a cracker with players coming from far and wide, including 105 online qualifiers. There's a single re-entry permitted to all players, and two starting flights, with registration open until the start of Day 2. It means we won't know the full size of the tournament until Sunday, but we'll get a pretty decent indication from the action today.
The plan is to play 10 60-minute levels, with a dinner break after six of them. It means a full 12-hour shift at the tables, so it'll be a measure of stamina as well as skill. But we'll be here through thick and thin, so please read along.
KEY FACTS:
PCA Main Event — Day 1A
Buy-in: $10,000 +$300 fee
Re-entry: Single re-entry allowed
Registration: Open for new players and re-entries until start Day 2
Schedule: 10 x 60-minute levels
Breaks: 20 mins after Levels 2, 4 & 8.
Dinner: 80 mins after Level 6
Starting stack: 30,000
Starting blinds: 100/100 (BB ante from Level 2 onwards)
---
Download the PokerStars LIVE! app with all tournament information. Available for IOS and Android.
PokerStars Blog reporting team on the $10,300 Main Event: Stephen Bartley, Martin Harris, Howard Swains and Brad Willis. Photography by Neil Stoddart and Carlos Monti.