Winning a SCOOP Main Event is easy — or at least that's how Hungary's Wildace_hun made it look.
Here's the blueprint. After entering the final table of this year's $1,050 Main Event with less than 20 big blinds, win a key early race with queens against A-K. Lay low until someone else picks off the first few players. Win another race with queens against A-K, then pick off a bluff with a turned set of aces to move into the chip lead. Hit the gas from there and don't look back until you've crossed the finish line with a life-changing pile of cash.
Yeah, easy.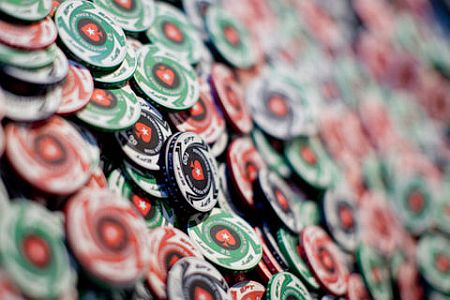 It was a breezy performance two days in the making. The Day 1 field ended with 5,508 total entries, smashing the $4 million guarantee with a $5,508,000 total prize pool. Argentina's chry1982 ended Day 2 with the lead at 55 million chips, while Wildace_hun had about half that in 10th place. chry1982 dropped about half that stack over the course of the day but Wildace_hun spun that middling stack up into the lead.
After stacking up with A♦A♠ against gusti38403's K♦K♣ in the early parts of Day 3, Brazil's VICTOR TXR1 won a crucial pot on the final table bubble. The Brazilian, sitting second in chips, opened for 2.6 million with 5♣5♦ and called when Wildace_hun, the leader, re-raised to 8 million on the button. Then VICTOR TXR1 check-called 5.9 million on the 4♦3♣A♠ flop and 14.1 million on the 4♣ turn before checking the 2♥ river and facing an all-in bet. A call and a loss would mean busting in 10th; a call and a win, the chip lead. VICTOR TXR1 finally called with the wheel straight and took down the enormous 150-million-chip pot when Wildace_hun rolled over a pure bluff with J♣10♦.
juicetus, who started Day 3 with the second-shortest stack, ended up being the unlucky bubble finisher. The German open-shoved for 18.4 million with Q♠J♥ in the small blind and picked up a call from ilir3, who had A♣J♦ in the big. juicetus jumped into the lead on the 10♣Q♣2♣ flop but was drawing dead after the 7♣ turn gave ilir3 a flush. The 3♦ river ousted juicetus in 10th and set up our final table: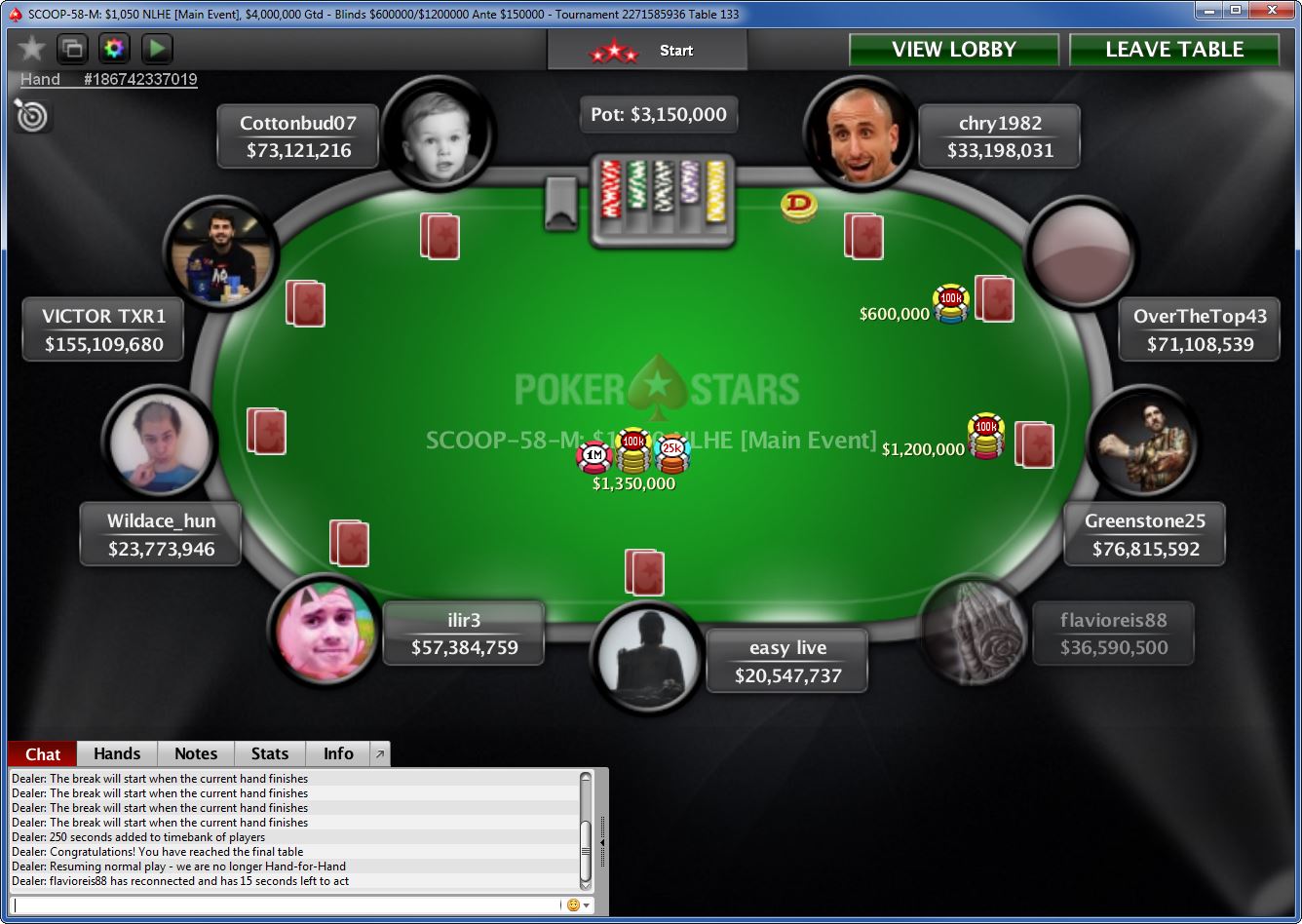 Seat 1: chry1982 (33,348,031 in chips) past $109 Sunday Wrap-Up & $215 Sunday 2nd Chance winner
Seat 2: OverTheTop43 (71,858,539 in chips) three-time COOP winner, including two at WCOOP 2017
Seat 3: Johannes "Greenstone25" Korsar (78,165,592 in chips)
Seat 4: Flavio "flavioreis88" Reis (36,740,500 in chips) past Sunday Million third-place finisher
Seat 5: easy live (20,697,737 in chips)
Seat 6: ilir3 (57,534,759 in chips) SCOOP 2015 finalist
Seat 7: Wildace_hun (23,923,946 in chips) past Sunday Million finalist
Seat 8: VICTOR TXR1 (155,259,680 in chips)
Seat 9: Cottonbud07 (73,271,216 in chips) past Sunday Million finalist & Turbo Series champ
The first hour didn't see a single knockout, which upped the pressure on all the short stacks as they looked to avoid both being blinded out and making a mistimed shove with a $19K pay jump in the balance. Wildace_hun was the first of them to stave off elimination, winning a flip with 8♠8♥ against VICTOR TXR1's A♣Q♦ for a crucial double to 48.3 million chips. That stack, worth 35 big blinds and ahead of three other players' stacks, allowed Wildace_hun to lie low for quite a while.
It took 51 minutes of final table poker for Russia's easy live to move all-in from the small blind with A♣Q♦ and run into ilir3's K♦K♣. The Q♣ and Q♥ on the flop bailed easy live out of that predicament. After 14 minutes it was deja vu for ilir3 as the Canadian player ended up all-in with K♣K♦ against Greenstone25's A♥Q♣. Another ace on the flop, but this one was joined by the K♥ to give ilir3 a set of kings and the double to 21 big blinds.
The players went on break and returned at 5pm ET and ilir3 picked up another big pair almost immediately. ilir3 called with A♥A♣ in the big blind after chry1982 shoved for just under seven big blinds in the lojack with K♥Q♣. The board ran out 4♦K♠J♠A♠4♥, the aces became a full house, and chry1982 departed in ninth.
ilir3 was dealt A♦K♣ in the small blind on the very next hand but lost to Wildace_hun, whose Q♣Q♠ in the big blind held up for a double to 46.8 million. Then wildace_hun was dealt A♠A♥ on the next orbit and played slow as VICTOR TXR1 re-raised in position before the flop and then bet when checked to on every street of the 4♥10♦2♠A♣7♠ board. Wildace_hun called, showed the set of aces to beat VICTOR TRX1's bluffs with K♣Q♥, and grabbed the 116-million-chip pot to move into second place.
Flavio "flavioreis88" hit the rail in eighth a few minutes later after open-shoving for six bigs with A♦4♦ in middle position and running into Cottonbud07's A♥K♠ in the big blind. Then Wildace_hun picked up another big pair — Q♥Q♠ — and three-bet with it over ilir3's UTG+1 opener. Greenstone25 jammed in the big blind with A♠K♣, clearing ilir3 out of the way and drawing a call from Wildace_hun. The 5♦10♣J♠2♣8♠ board was no help to Greenstone25, who left in seventh as Wildace_hun took over the lead with that 98-million-chip pot.
It was ilir3's turn for a big pair again six hands later and he doubled with A♠A♣ in the big blind against easy live's attmepted steal with J♠6♦ in the small. easy live managed to double back to 22.4 million with A♥10♥ against VICTOR TRX1's 9♣8♣ on the next hand and then picked up 9♣9♠ on the hand that followed. The Russian moved all-in over the top of an under-the-gun raise from Cottonbud07, who called with A♠Q♣. The board came Q♦2♦2♣7♦K♠, queens and deuces earned Cottobud07 the 49.9-million-chip pot, and easy live left the tournament in sixth.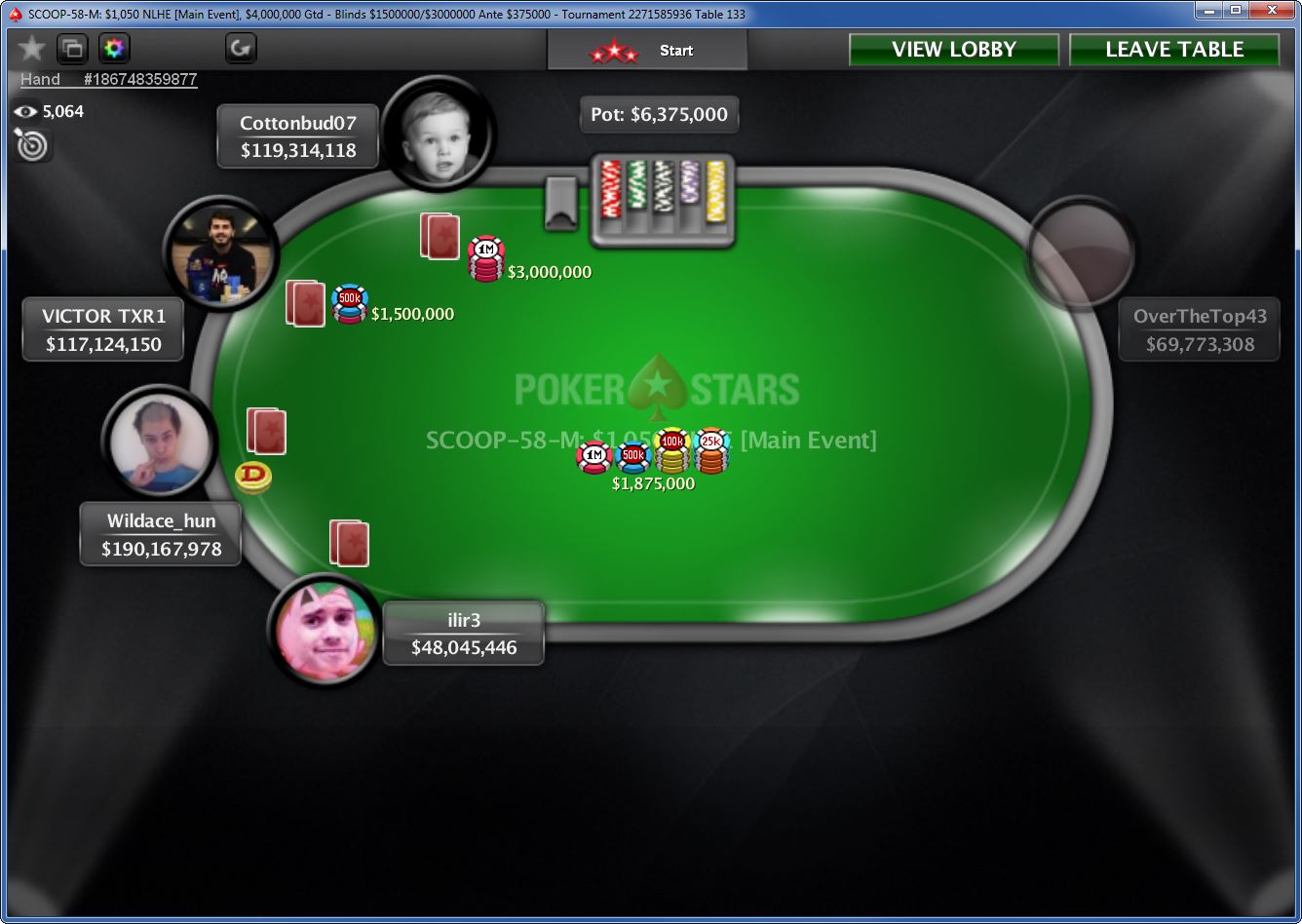 The moment just before Wildace_hun ran away with this tournament
With blinds and antes at 1,250,000/2,500,000/325,000 the lead still belonged to Wildace_hun at 201.3 million chips. Cottobud07 (114.5 million), VICTOR TRX1 (104.1 million), and OverTheTop43 (72.5 million) were all within a double-up of the lead, and ilir3 was bringing up the rear with 58.2 million.
At this point ilir3 was agitating to have a look at numbers for a potential deal, but Wildace_hun never responded in chat. Finally ilir3 said, "lets look at number wildace before i take ur whole stack. u've been warned."
Not only did no such thing come to pass, but Wildace_hun took down 10 of the next 12 pots in a row in the beginning stages of running away with the tournament. Then ilir3 open-shoved for 34.1 million chips with A♣J♦ under the gun and VICTOR TRX1 isolated in the small blind with A♠K♦. The board came 2♣5♦4♥6♥K♣ and ilir3 was out in fifth.
Wildace_hun's persistent aggression had already boosted the Hungarian player's stack over 300 million chips — good for 100 big blinds — when Cottonbud07 opened with a min-raise to 6 million on the button. OverTheTop43 moved all-in for 72.1 million in the small blind and then Wildace_hun jammed in the big, convincing Cottonbud07 to get out of the way. Wildace_hun's 8♠8♦ held up when OverTheTop43's K♣Q♦ failed to improve, earning the 151.7-million-chip pot and eliminating OverTheTop43 in fourth.
Wildace_hun did it again just five minutes later, this time after opening for 7.8 million on the button with K♦9♥. Cottonbud07 called in the big blind and shoved for 39.1 million when the flop came 9♣5♣4♥. Wildace_hun called with top pair, the straight draw didn't materialize as the turn and river came 2♦Q♦, and Cottonbud left in third.
VICTOR TXR1 was facing an uphill battle heads-up with 112.5 million chips to Wildace_hun's 438.2 million. The leader ground the Brazilian's stack down over 15 minutes and then lost a key hand with Q♣Q♥ against A♥Q♦ to put VICTOR TXR1 just a bit ahead of where the match had begun. Wildace_hun responded to that setback by taking down six of the last seven pots to close out the tournament, including A♣A♦ in the big blind on the final hand against VICTOR TXR1's button-raising K♠Q♦ to wrap up a dominant final table run.
From a busted bluff on the final table bubble to a championship run through the last hour of the tournament, Wildace_hun experienced it all in this thrilling finale to SCOOP 2018. Congratulations to the Hungarian on taking down the title and an enormous $783K prize, and indeed to the rest of our finalists as well on some very hefty cashes of their own.
SCOOP-58-M ($1,050 NLHE Main Event) results
Entries: 5,508 (3,847 entries, 1,661 re-entries)
Total prize pool: $5,508,000
Places paid: 773
1. Wildace_hun (Hungary) $783,165.95
2. VICTOR TXR1 (Brazil) $545,685.82
3. Cottonbud07 (United Kingdom) $380,219.44
4. OverTheTop43 (Austria) $264,926.53
5. ilir3 (Canada) $184,594.01
6. easy live (Russia) $128,620.06
7. Johannes "Greenstone25" Korsar (Sweden) $89,619.56
8. Flavio "flavioreis88" Rei (Brazil) $62,444.74
9. chry1982 (Argentina) $43,509.89
---
Play poker for any stakes, any time you like.Click here to open your PokerStars account today.
---