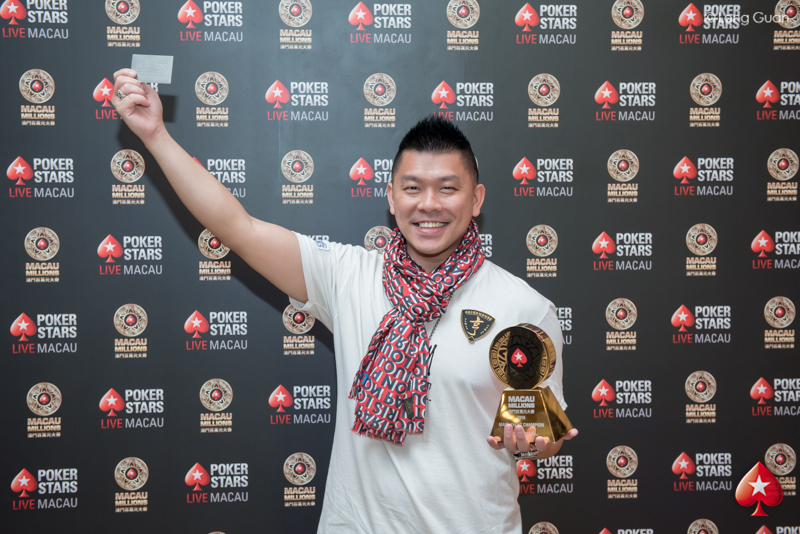 2018 Macau Millions Champion Chen An Lin
Chen An Lin overcame a record-breaking 2,499-strong Main Event field to take the trophy, title and a monstrous HK$1,159,000 (~US$147,000) top prize and a PSPSC Platinum Pass worth another US$30,000.
The 33-year-old poker pro from Taiwan was amongst the chip leaders from the middle of Day 2 and started the Final Table with over 5 million in chips putting him in 2nd place at the start of today's play.
It was a fast moving finale, finished in under five hours with plenty of hectic play. We had started a man short due to a double bust-out on the final hand of day 2, and it was pushed along today by a similar hand. Coincidentally it was the hand that made Lin close to chip leader, and he never looked back.
The craziness played out as follows – Aditya Sushant, holding 10♦ 9♣, moved all-in from middle position, Max Menzel called with A♣ K♣ on the button, and Chen An Lin, holding J♦ J♥, moved all-in from the big blind, and was called by Menzel.
The flop came out J♣ Q♦ A♥, the turn 10♣ giving Menzel the straight with a card to come. The river crushed his heart though, a Q♥, giving a Lin a boat, Jacks on Queens and busting both Menzel and Sushant at once. Lin took all the chips, near 5 million, pushing his personal stack to 9 million. It put him right in contention, with only Xu Huang (his eventual heads-up opponent) with a bigger stack, and he took full advantage.
Plenty had occurred beforehand. And as already stated, it happened fast…
Two short stacks were the first two to exit, Wei Lin in 8th for HK$111,000, followed by Guigen Xaio in 7th for HK$155,500.
Fangjie Chen, who'd started the final table with the second least amount of chips, but had worked his way to around 5 million walked next. His good early play running directly into eventual heads-up player Xu Huang's bullets. Chen earned himself HK$204,000 for 6th place.
First hand after the break we had the double bust-out mentioned above. An epic hand which drew a crowd as it loudly played out. India's WSOP bracelet winner Aditya Sushant finishing 5th for HK$276,000, and Germany's Max Menzel 4th for HK$360,000.
Then there were three…but it didn't last. Zhochang Xu exited soon after in 3rd for HK$ 480,581, Chen An Lin's pocket 7's holding up and taking us to heads up.
Lin started as chip leader with 15.3 million, just ahead of Xu Huang with 14.1 million. Huang started well, wrestling back the chip lead with aggressive play, but Lin soon took down a monster pot with a pair of four's and scored himself a two-to-one chip lead before the final hand played out.
The final hand of the 2018 Macau Millions saw Lin on the button, he raised to 400k with Huang reraising to 1.5 million. Lin called. After the flop the board read 2♥ J♦ 8♣. Huang checked it, Lin raised to 1-million with Huang re-raising to 2.5 million. Lin thought a little then called. The turn came out a 10♥ and Huang went all-in fast, with Lin calling even quicker. Huang showed A♦ 10♣ for a pair of tens, but Lin's J♣ Q♣, with its flopped pair of jacks had him beat. The dealer let the drama build before slamming down 6♠, Lin's dreams of victory coming true, Huang's busting out. To the victor go the spoils…
This is the first time I've managed to final table this event," said a pleased-looking Lin immediately after his victory – his largest ever career score.
I think the trophy means more to me than the Platinum Pass, just because this is the first Main Event title I've ever won, I've bubbled three main event final tables so this is a special moment for me," said Lin.