The All-Star Showdown is here!
Attention poker superstars, high-stakes grinders and rail birds of the world! The first annual All-Star Showdown, featuring eight of poker's biggest stars, is now underway. Each player has put $100,000 of their own money on the line for the chance to be called the best No-Limit Hold'em Heads-Up player in the world.
Over one week, they'll do battle on the heads-up tables until just one remains. Their prize? $550,000 and the first-ever All-Star Showdown trophy.
Matches are taking place online from October 27-November 4, with seeding determined by a random draw prior to the first match and players progressing through a single-elimination bracket.
The world's foremost heads-up experts are participating in the All-Star Showdown, including the newest member of Team Online, Isaac 'Ike Haxton' Haxton, already signed-up and ready to go. Don't miss it!
Full Player List:
Benjamin 'Sauce123' Sulsky
Ben 'Ben86' Tollerene
Phil 'mrSweets28' Galfond
Daniel 'w00ki3z.' Cates
Tobias 'KTPOTP' Kuder
Alexander 'Kanu7' Millar
Alexander 'Sussie Smith' Roumeliotis
Isaac 'Ike Haxton' Haxton
Watch the All-Star Showdown
Review the match schedule below to make sure you catch all of the action online at PokerStars. You don't even need to have a PokerStars account to watch. As each match finishes, the PokerStars Blog will post the results, player reactions and the most interesting hands right here, so check back often!
Here's the line-up of matches: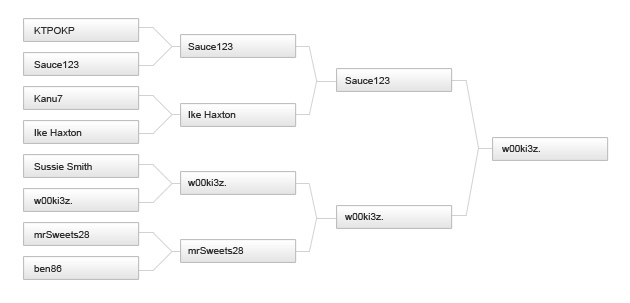 All-Star Showdown: The Results
Keep up-to-date with the results from every All-Star Showdown bout with help from the PokerStars Blog. The Blog is also where you can read more about all players taking part.
Prizes
Each of the eight players have contributed $100,000 each to the prize pool. Prizes are as follows:
1st: $550,000 + All Star Showdown Trophy
2nd: $250,000
The players are not playing for any additional money beyond the prizes listed above. For example, the winner of a first round match does not win $100,000 from their opponent.
Rules
Players will start each match with a fixed bankroll of $100.000.
All matches will be played at four simultaneous tables.

The initial stakes will be $50/$100
Each player will buy in for 100 big blinds at all four tables and use the auto top-up feature to re-buy to 100 big blinds once they fall below this level.
Once a player has insufficient available funds to re-buy to 100 big blinds at one or more tables, his stack(s) at one or more of the other tables will be re-set to 100 big blinds in order to release funds.

As far as possible, the administrator of the match will re-set the stacks at only one table.
If the player does not have enough funds at any one table to cover the required re-buy, stacks will be re-set at two or three tables as needed.
If the player has enough funds at multiple tables to cover the re-buy, the administrator will re-set the stacks at the table which has the smallest effective stacks.
When a player's stack is re-set, his opponents stack will also be re-set at that table.
Once a player's total funds drop below 400 big blinds, play will continue on three tables. Likewise, additional tables will be dropped once a player's total funds drop below 300 and 200 big blinds. If, during later play, the player's total funds increases above these mentioned levels, tables will be added up to a maximum of four in total.

At players' discretion, in a situation where the alternative is to reduce the number of tables in action, they may mutually agree to allow play down to 80 big blinds.

After 3,000 hands, the blinds will increase to $100/$200

In this case, player will move to new tables and make buy-ins of 100 big blinds at as many tables as possible.

After 5,000 hands, the blinds will increase to $200/400

The same procedure as when moving to $100/$200 will take place.

There will be a five minute break after every hour of play. After five hours of play, there will be a 30 minute break. It is the privilege of the administrator to skip breaks or change their length on request of the players.
The match is over when one of the players has won all of the opponent's funds.
If you have any questions about the All-Star Showdown, or any other PokerStars event, contact support@pokerstars.eu.