Raise Money for the Philippines Typhoon Relief Fund
On November 8, 2013, the lives of millions of Philippines residents were forever altered by Typhoon Haiyan, one of the strongest storms ever recorded. To give much-needed assistance to those who have lost their homes and livelihood, PokerStars, through its corporate giving programme 'Helping Hands', has partnered with global relief charity CARE International to launch an emergency appeal. CARE International's current focus is on providing the immediate essentials – shelter, water and food – to communities hit hardest by this disaster. With your help, CARE International plans to continue to provide essential relief items and help families begin to rebuild their lives over the coming weeks and months.
You can help, too. PokerStars players can make donations to the CARE International relief effort via the game software, and PokerStars will match the total amount raised. So for every $1 donated via the game software, PokerStars will send CARE International $2. All the money will be passed on to CARE International, and will make a difference in the affected areas. All contributions are welcome!
Make Your Donation via Dummy Tournament
You can make your donation by registering for special dummy tournaments in the PokerStars lobby under the 'Tourney' > 'All' tabs. Please note that these are not real tournaments; they are simply a way to collect donations. Entering these dummy tournaments does not result in any poker being played. You can also find them by typing 'Typhoon Haiyan Relief' into the Tourney Filter.
The dummy tournaments are in the amounts of $1, $2, $5, $10, $20, $50, $100, $200, $500, $1,000, €1, €10 and €100, corresponding to the amount you wish to donate. When you register, your buy-in will be added to the Typhoon Haiyan Relief Fund. You can donate via multiple dummy tournaments if you wish!
Make Your Donation via Player Transfer
You can also donate to the fund by making a player transfer to the account 'Typhoon Fund'. To make a player transfer, go to the Cashier in the PokerStars lobby and select 'Transfer'.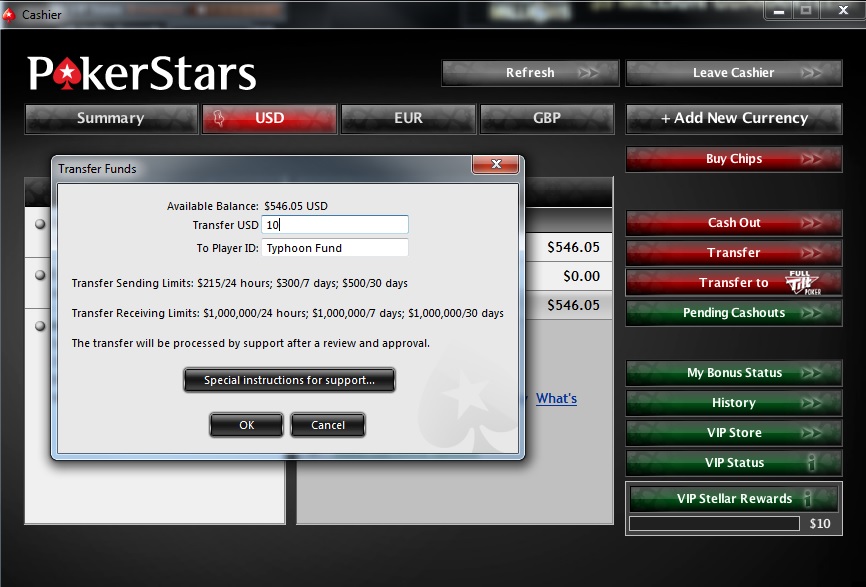 In the next window, confirm your details and then select the amount you wish to donate and enter 'Typhoon Fund' in the Player ID text box as above. On the confirmation screen, verify that the country associated with the 'Typhoon Fund' account is 'Isle of Man'. Your specified amount will then be added to the Typhoon Haiyan Relief Fund. If you need any further help with making your donation, please contact support@pokerstars.eu.
Donate via the CARE Website
You can also choose to donate to CARE International directly. CARE International has set up a special 'PokerStars/Helping Hands Appeal' page. There you'll find information about how your donations will support relief efforts in the Philippines, plus a quick and easy donation form. Please note that contributions made directly to CARE may not be matched by PokerStars.
Thank you in advance for your support of this important cause.