Free $20 – $50K SportStar Challenge
Neymar Jr has joined Team PokerStars and you can celebrate his arrival by getting $20 for free! Simply make your first deposit of $20 or more and the free $20 is all yours, which we'll credit within 48 hours of your deposit.
As soon as you make your deposit, complete two simple Challenges for free entry to our SportStars freerolls, where a $50,000 prize pool awaits. We're also adding more than $20K in instant prizes given out at random for the first 90 minutes of the freeroll, including on-the-spot cash prizes of $50, free tickets and more.
How to claim your Free $20 and freeroll tickets
Make a real money deposit of $20 or more using bonus code 'FREE20', and complete your Challenges as shown in the diagram below. Once completed, you'll be credited with a ticket to the freeroll of your choice.
Open your 'Challenges' window in the PokerStars desktop client or Mobile app to get started.
There are two freerolls running, one on July 12, 13:00 ET, and one on August 9, 13:00 ET. Players who hold a ticket can choose the freeroll they wish to play in. Here's what you can win in either freeroll:
$50K prize pool
For the first 90 minutes of the tourney we'll select tables at random every 10 minutes and award additional prizes to players seated at those tables.
More than $20K in added prizes in each freeroll, as shown below:
Time
Prize per player
# Tables
# Winners
Total Giveaway
13:10
$50 cash
10
90
$4,500
13:20
25 $1 Spin & Go tickets
10
90
$2,250
13:30
Two $11 Sunday Storm tickets
10
90
$1,980
13:40
$25 cash
10
90
$2,250
13:50
Ten $3 Spin & Go tickets
10
90
$2,700
14:10
$55 MTT ticket
5
45
$2,475
14:20
$50 cash
5
45
$2,250
14:30
Seven $7 Spin & Go tickets
5
45
$2,205
Total Prizes
$20,610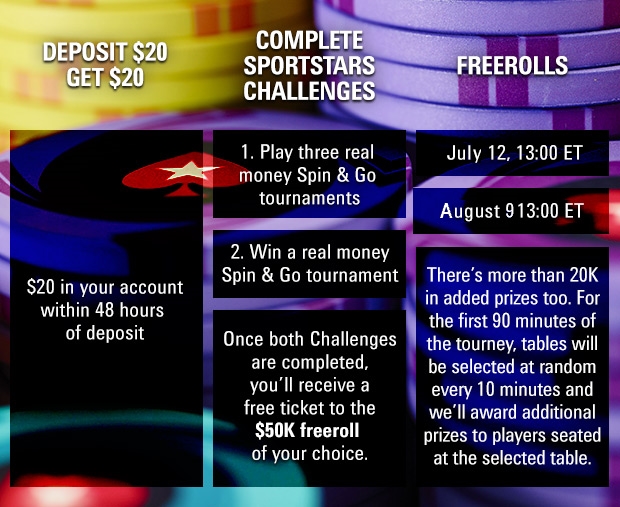 Terms & Conditions:
PokerStars standard promotional Terms & Conditions apply.
Contact support@pokerstars.eu if you have any questions about the promotion.